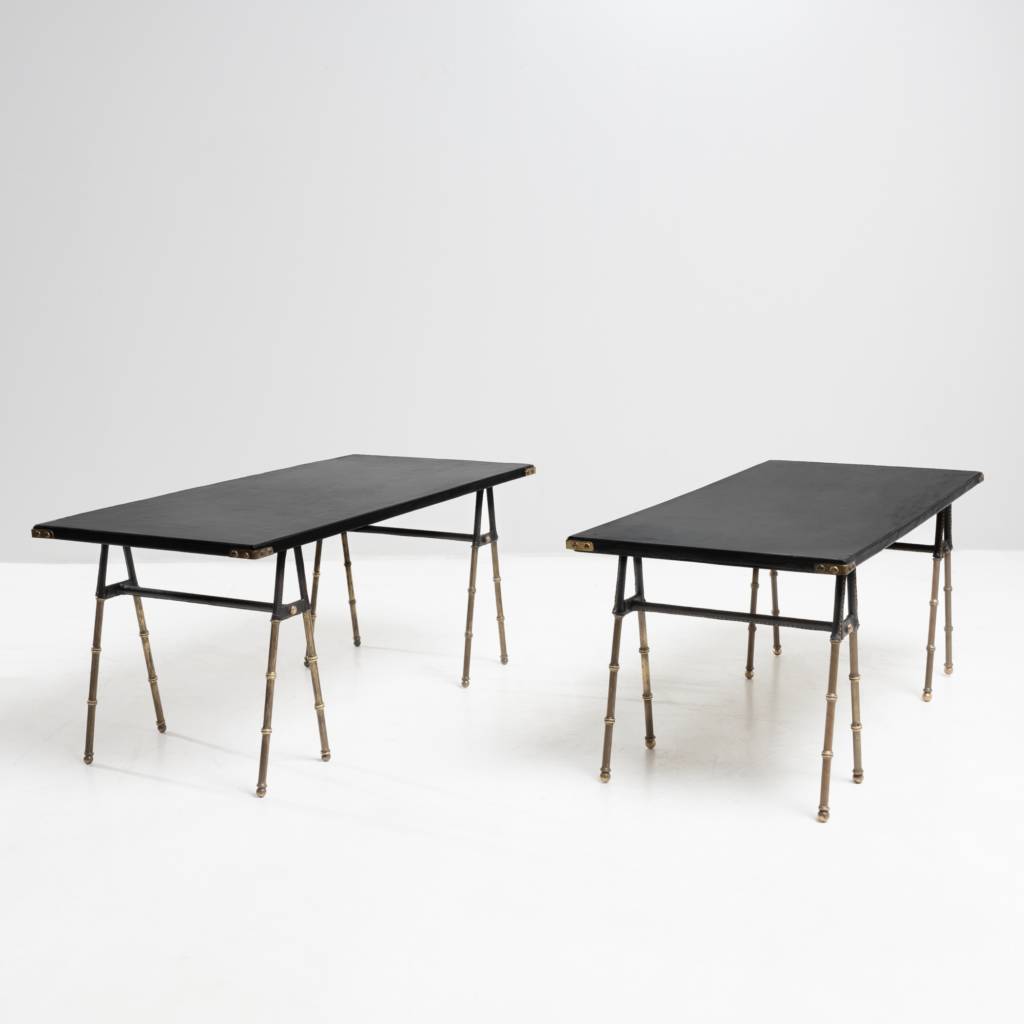 Ref : COUG06_14
Pair of coffee tables with trestle legs by Jacques Adnet
Artist
Jacques Adnet
Elegant pair of coffee tables by Jacques Adnet with tops entirely covered in black leather, bronze corner protectors.
The trestle legs screwed to the reverse, in bronze imitating bamboo, the upper elements of which are covered in saddle stitched black leather.
Jacques Adnet was a French designer born in 1900 and died in 1984. He is known for his work in the fields of furniture, lighting, and interior design. Adnet studied at the École nationale supérieure des arts décoratifs de Paris, where he was trained in traditional decorative arts. However, he was quickly drawn to the new trends of modern design, such as functionalism and the Bauhaus movement.
In 1925, Adnet participated in the Exposition internationale des arts décoratifs et industriels modernes, where he presented his creations. His work was noticed by critics and the public, and he quickly began working for luxury brands such as Hermès, Baccarat, and Louis Vuitton.
In 1929, Adnet founded the Compagnie des Arts Français, a design firm that produced his own creations as well as those of other designers. The Compagnie des Arts Français was a commercial success and helped to promote French design internationally.
Adnet continued to work until his death in 1984. His work is still considered to be a reference point for modern design, and his creations are today highly sought-after by collectors.
The Compagnie des Arts Français played an important role in the development of French design. The company helped to promote the new trends of modern design and to bring to light the work of talented designers, such as Jacques Adnet.
Specifications
Artist

Manufacturer

Dimensions

Height: 17 23/32 in. (45 cm)
Width: 41 47/64 in. (106 cm)
Depth: 18 57/64 in. (48 cm)