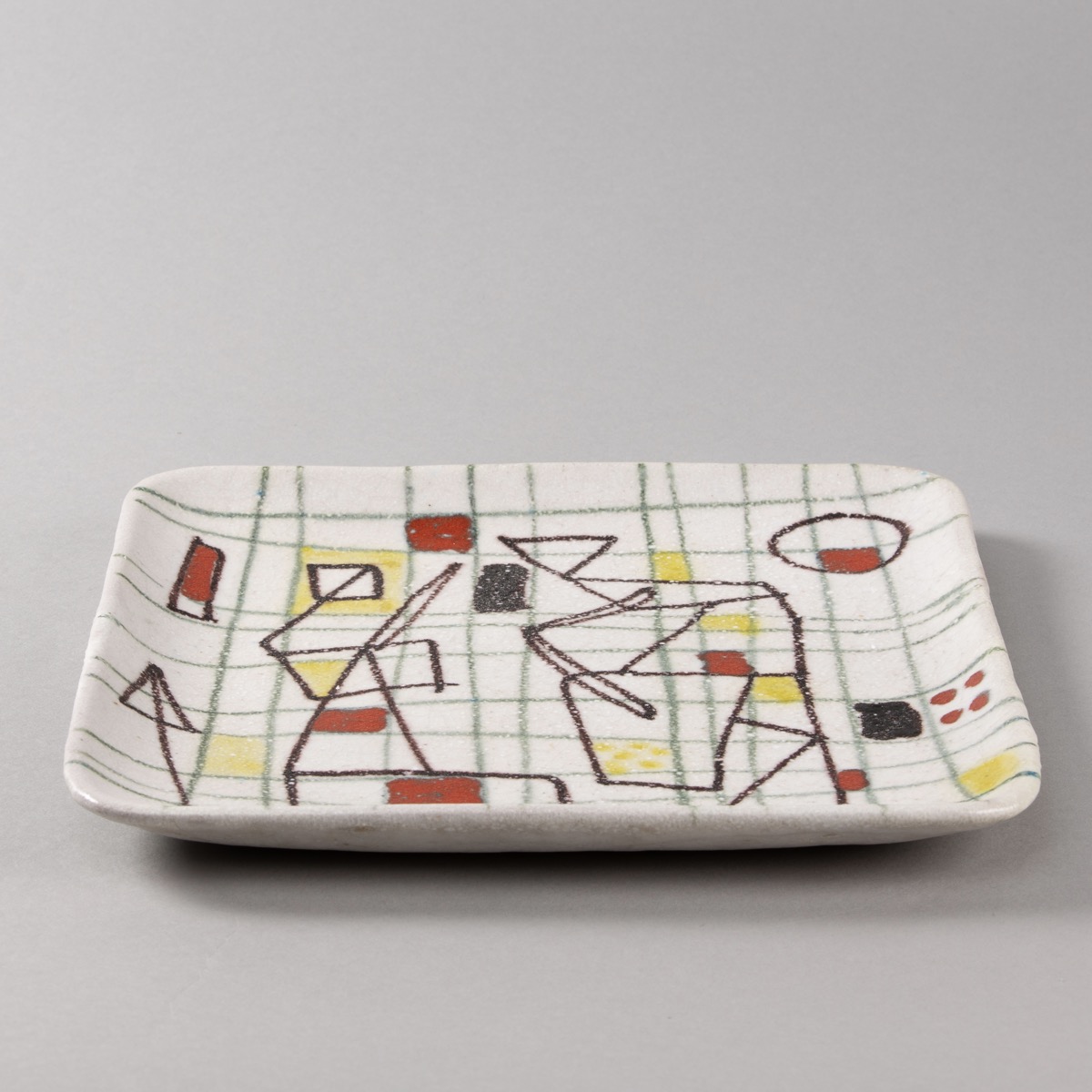 reference UC09_45
Guido Gambone - A ceramic plate with abstract decor
unforget says

Large decorative square dish, enameled ceramic.
The dish presents an abstract decoration imagined by Guido Gambone and probably manufactured during the decade of the 1960s, see the end of the 1950s.
The tones found on the hand painted decor are gray for the basic "hatching", some yellow and red shapes. The whole is topped by an abstract design in dark brown color. We can guess that the artist was thinking of a couple of figures in the central drawing.
There is also the drawing of an arrow, some points and some squares formed by the hatching are filled with red or yellow color.
The entire tray is enameled.
This tray is designed to be placed on a table or with a specific accessory can be hung on the wall. Pretty work typical of the good period of Guido Gambone's work.
The dish is signed, GAMBONE ITALY with the mark representing a donkey.

technical

Designer : Guido Gambone
Manufacturer : Guido Gambone
Dimensions:
H 3/4 in. x W 9 3/4 in. x D 9 3/4 in.
H 2,2 cm x L 25 cm x P 25 cm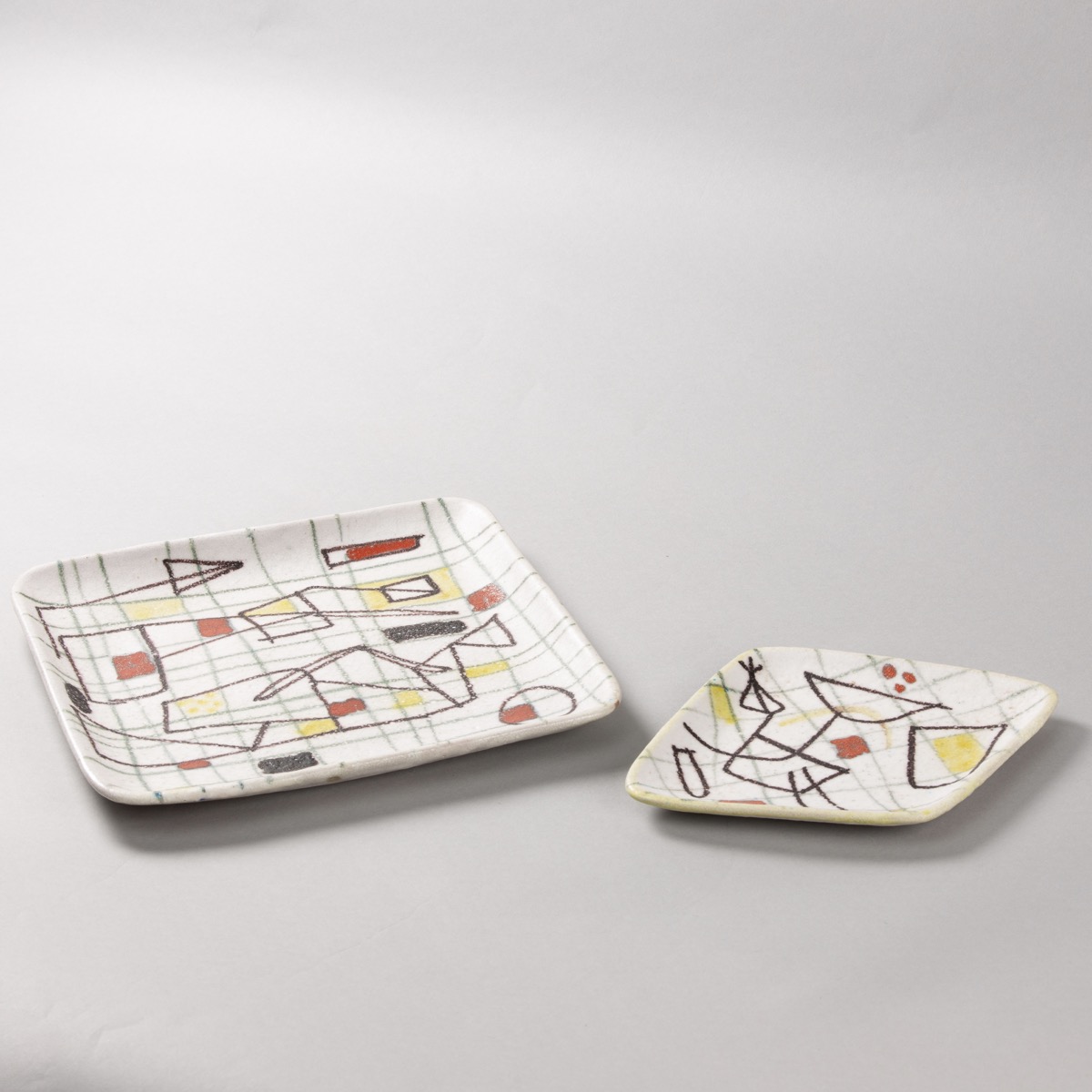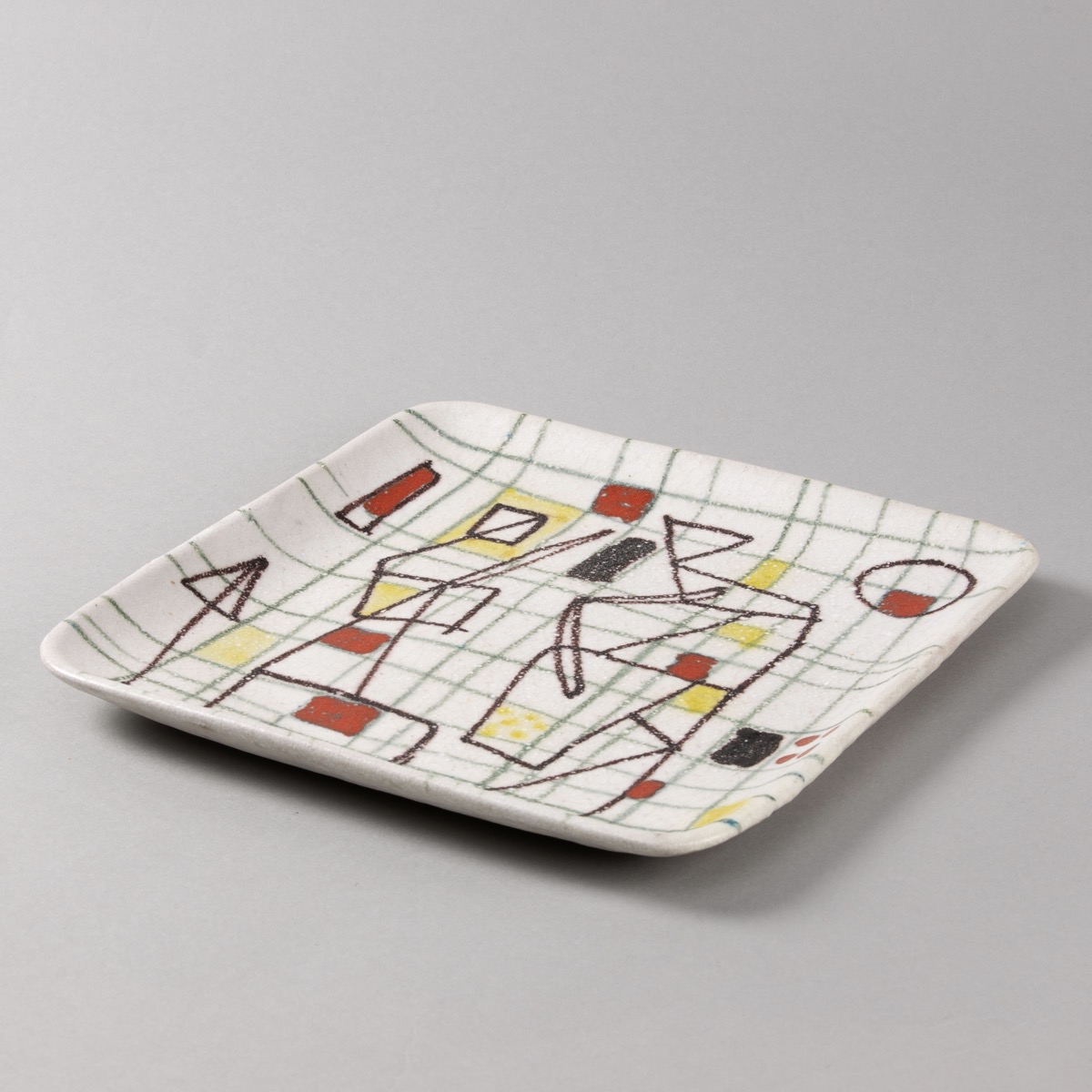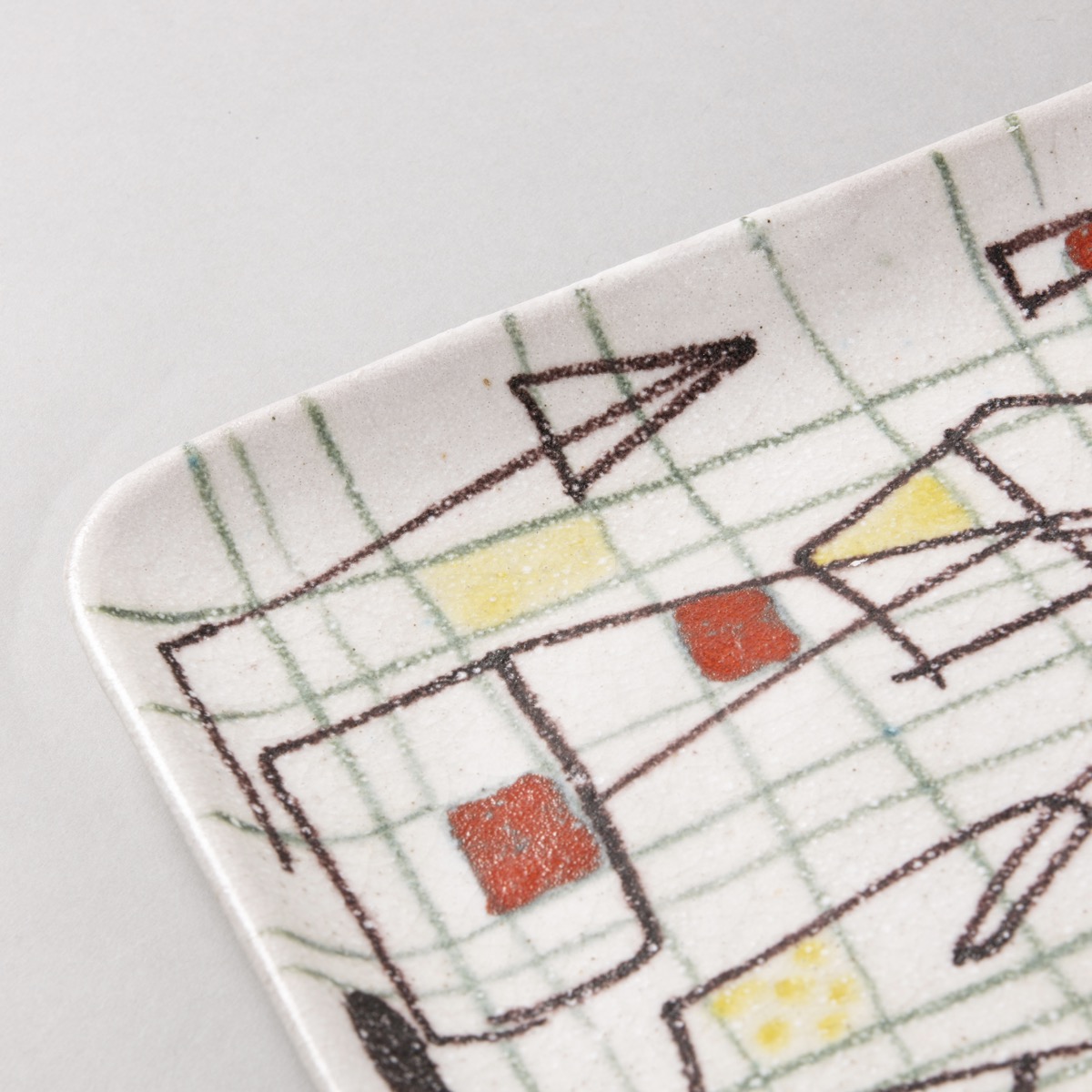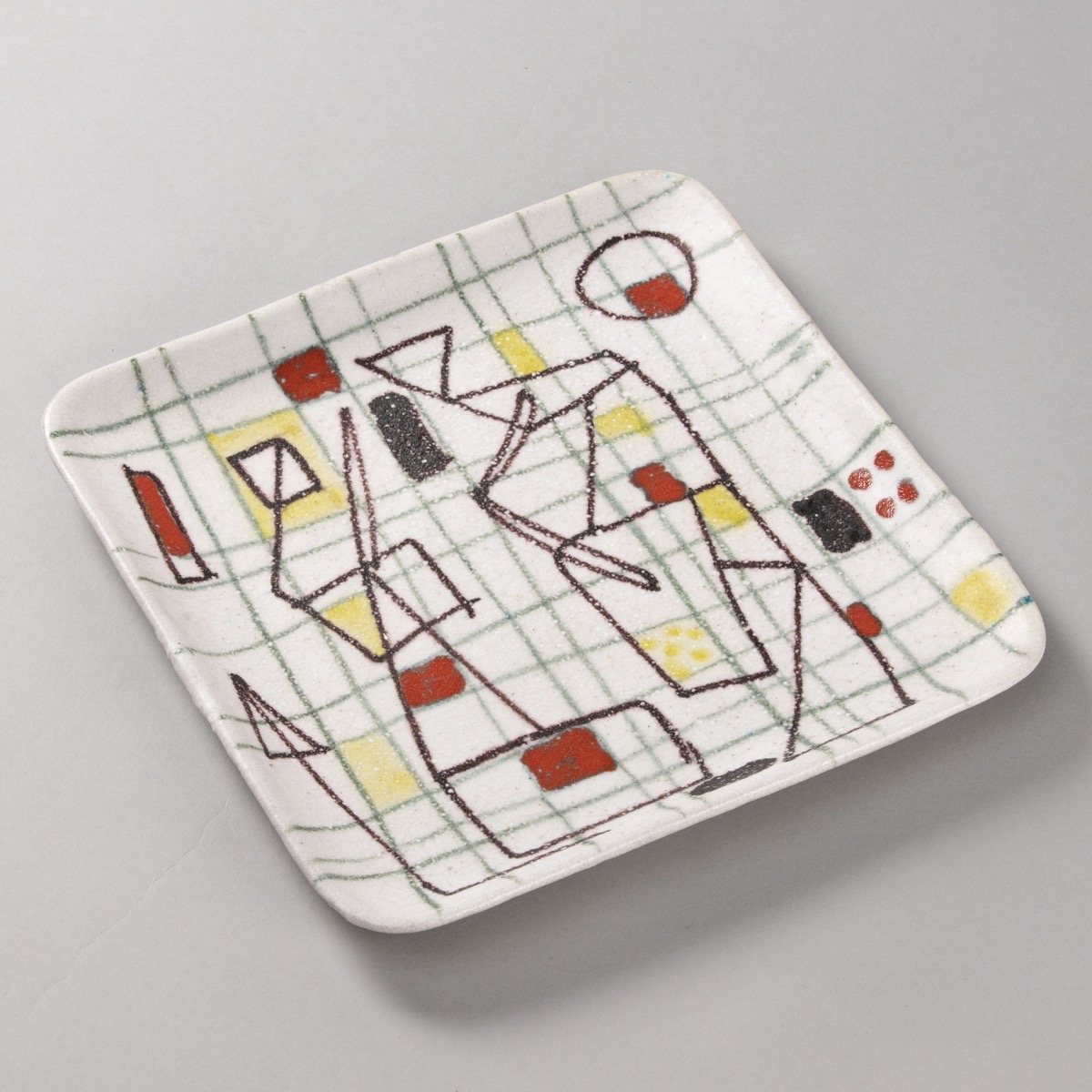 you should know

Good vintage condition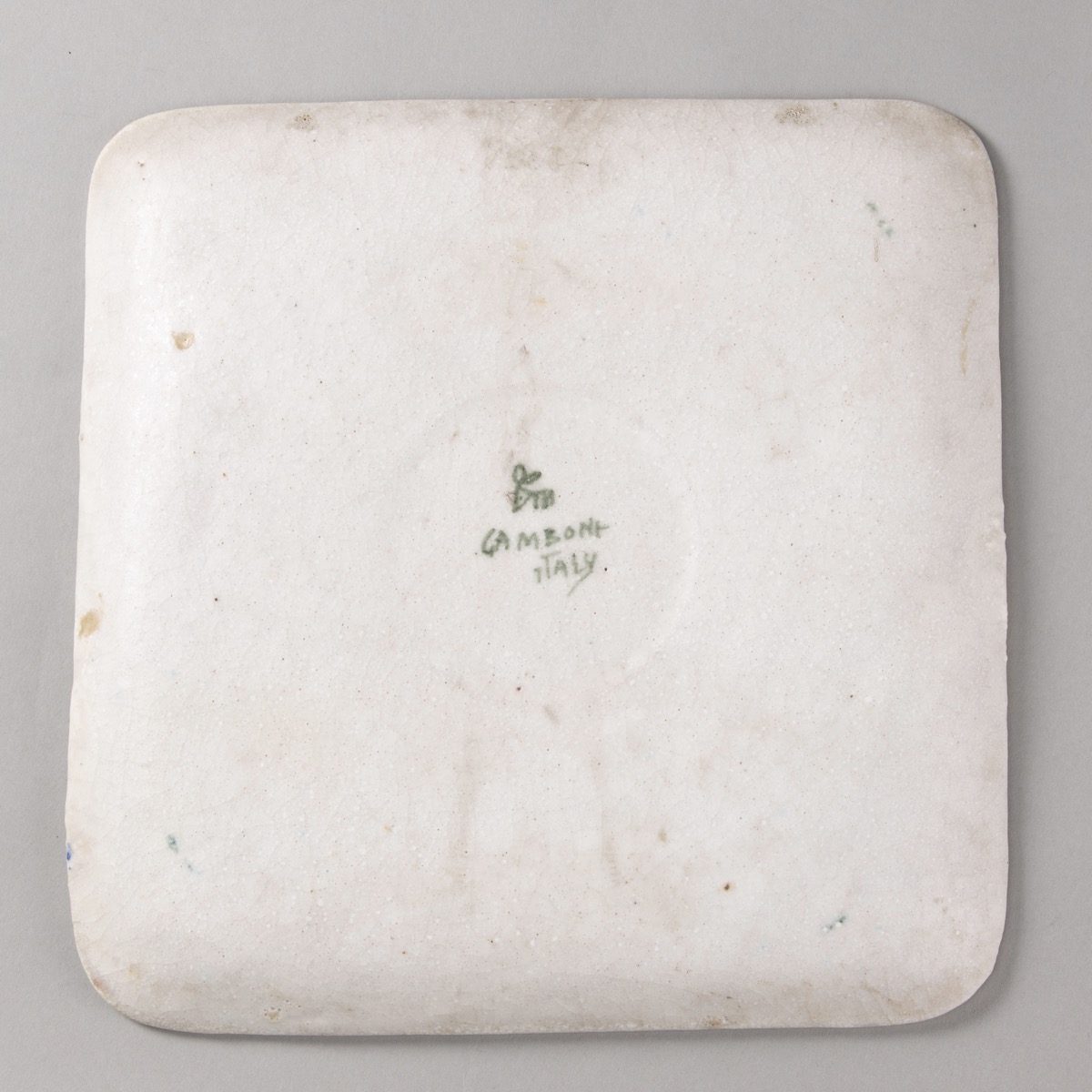 All photos copyright Ludovic Vandenweghe for Unforget.eu
—
Guido Gambone
(1909 Montella IT – 1969 Firenze IT)
"La leggenda della ceramica"
Guido Gambone is considered as one of the most influential ceramists of the twentieth century, he defined an excessively personal style by mixing the ancestral techniques of ceramics with Etruscan or abstract decorations composed by with primary colors.
Born in Montella, in the region of Campanille, in the south of Italy, Gambone stopped his studies at the age of 15 against the advice of his parents to join a ceramic factory located in Vietri sul Mare.
In the course of the 30s, he moved to Florence to join the Cantagalli ceramics company that specializes in Majolica.
In the early 1940s, Gambone teamed up with his brother Remigio and their friend Andrea D'Arienzo to establish the ceramic company "La Faenzerella" in Vietri Marina.
Gambone receives awards from the second half of the 1940s and continues on the path he has traced throughout the 50s, while his son Bruno joins him to collaborate.
In 1950 Gambone exhibited at a group show at Brooklyn Museum in NYC.  Gambone died in 1969, just two years after the closure of his workshop "La Tirrena" (the second workshop he had opened).