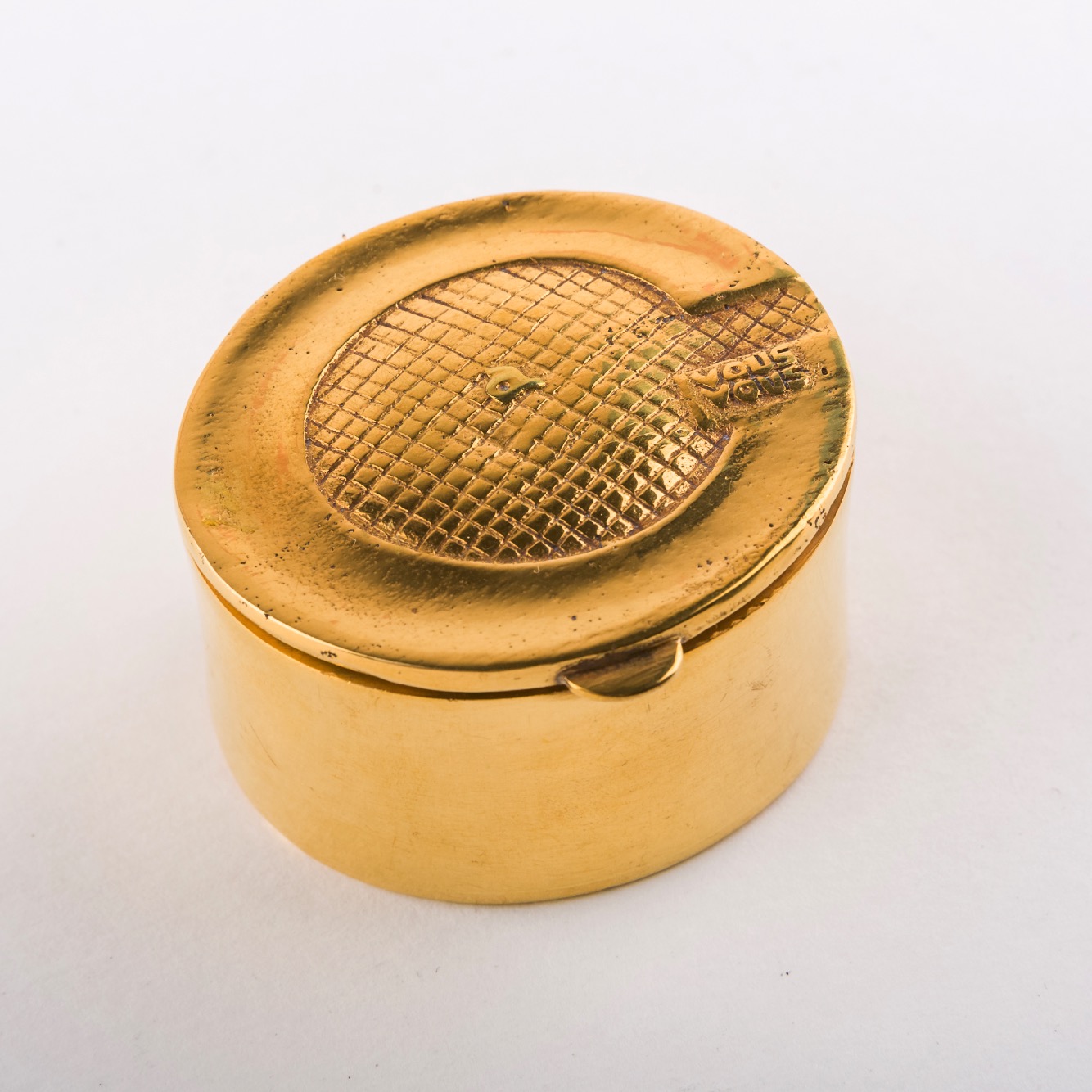 reference 1503_05
Line Vautrin - J'ai Grand Appétit de Vous - Gilded bronze box
unforget says

A very rare Gilded bronze box by Line Vautrin. This is a tiny box. We believe this exemplar is unique by it's size. The message "j'ai grand appétit de vous" (I have a great appetite for you) can be decipher this way : G grand (a big "G") a petit (the small "a" in the middle of the box) Deux vous (deux = Two "vous") The word "vous" appears two times on the cover of the box. Circa 1955 - 1960 Iconic rebus box by Line Vautrin !
technical

Designer : Line Vautrin
Manufacturer : Line Vautrin
Circa 1955
Dimensions:
H 1.26 in. x W 2.05 in. x D 1.86 in.
H 3.2 cm x W 5.2 cm x D 4.7 cm
certificates

Markings : Stamped "LINE VAUTRIN" two lines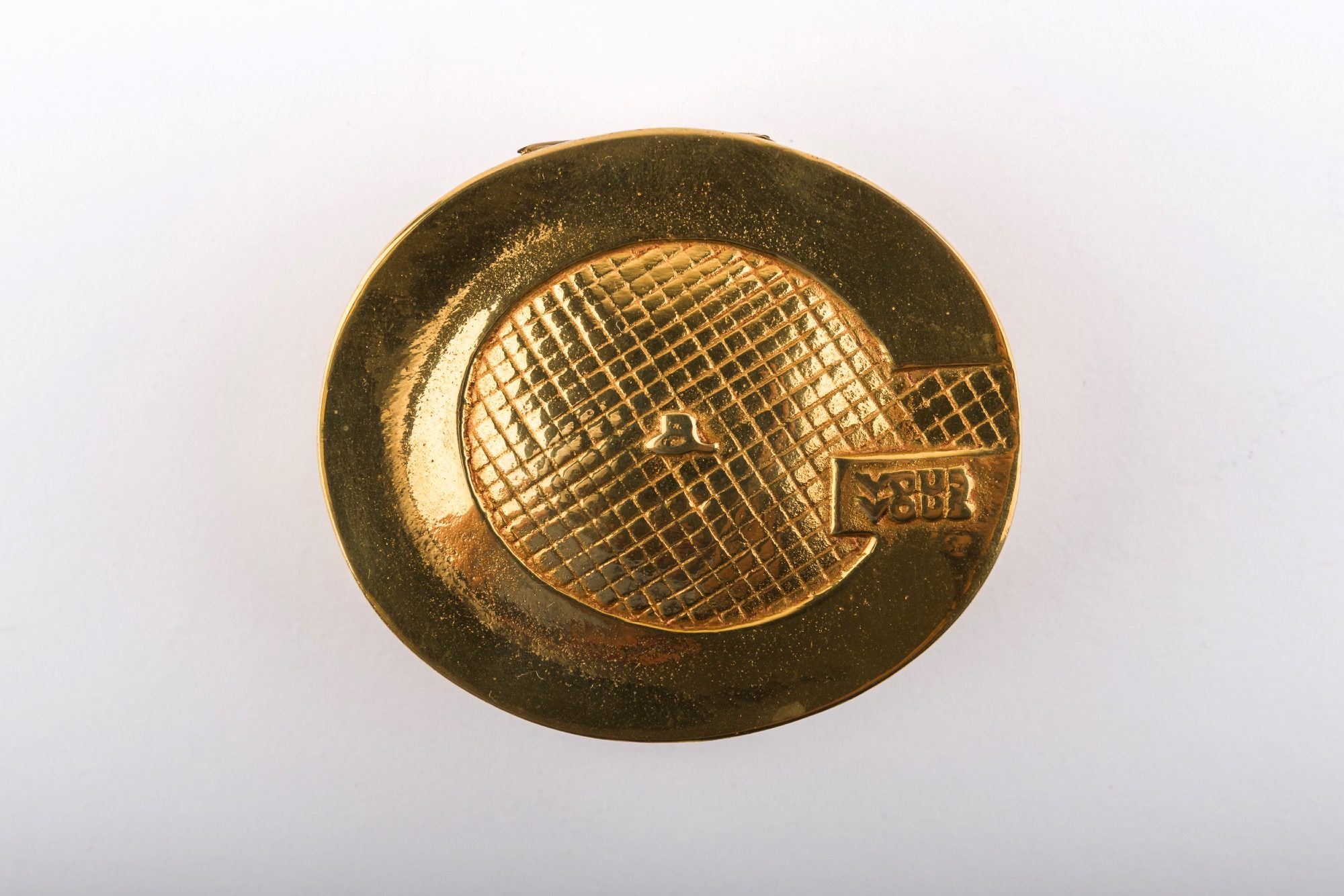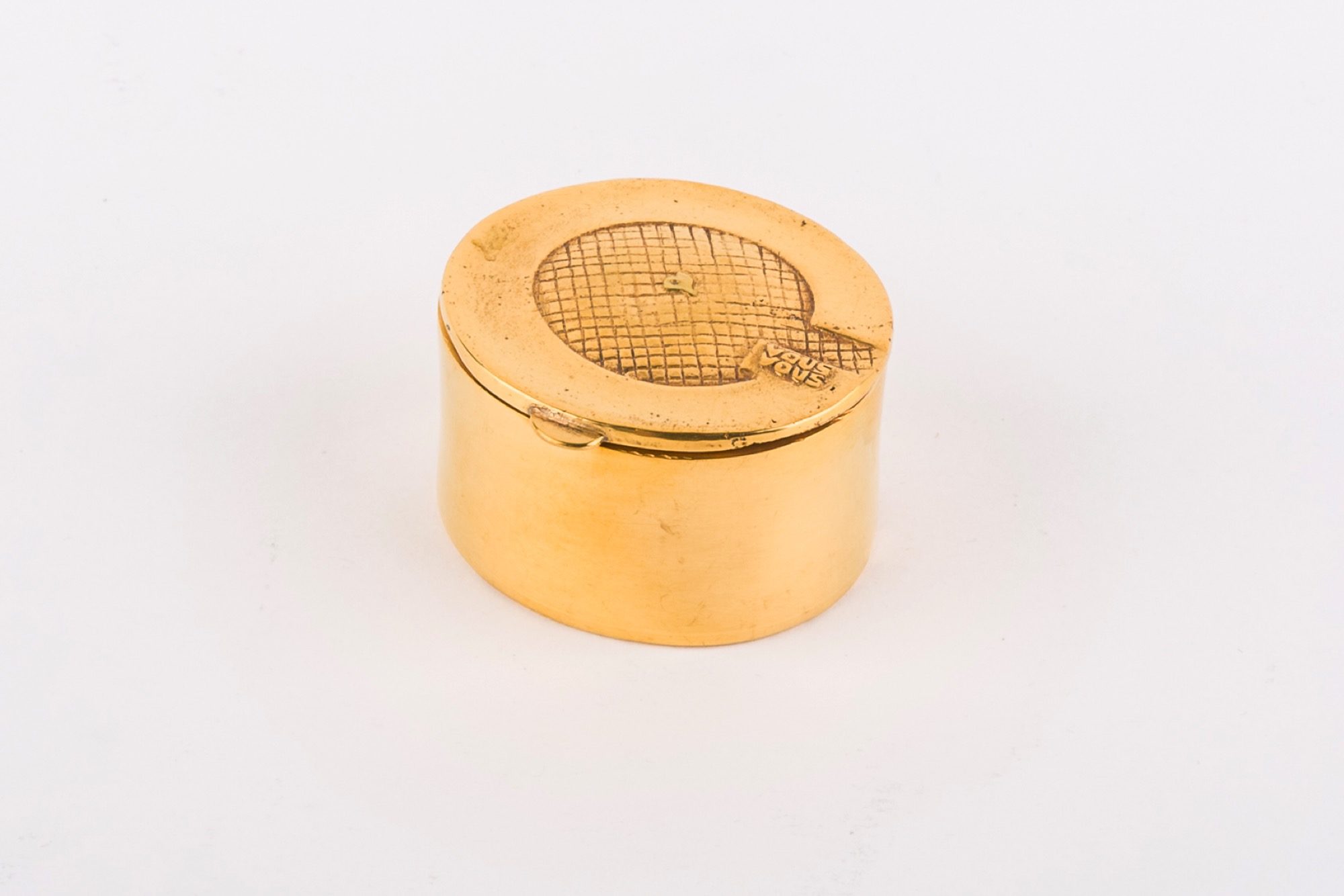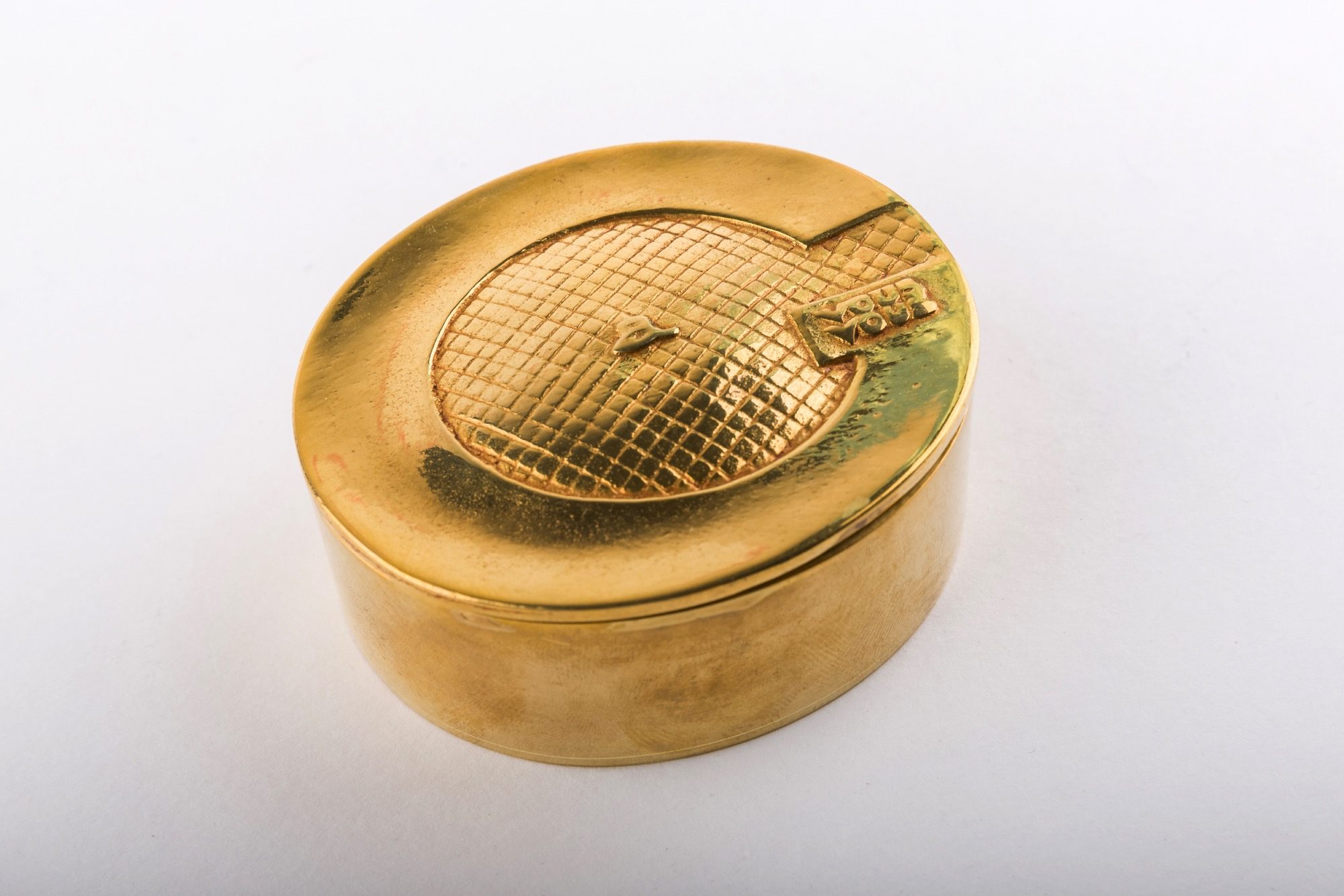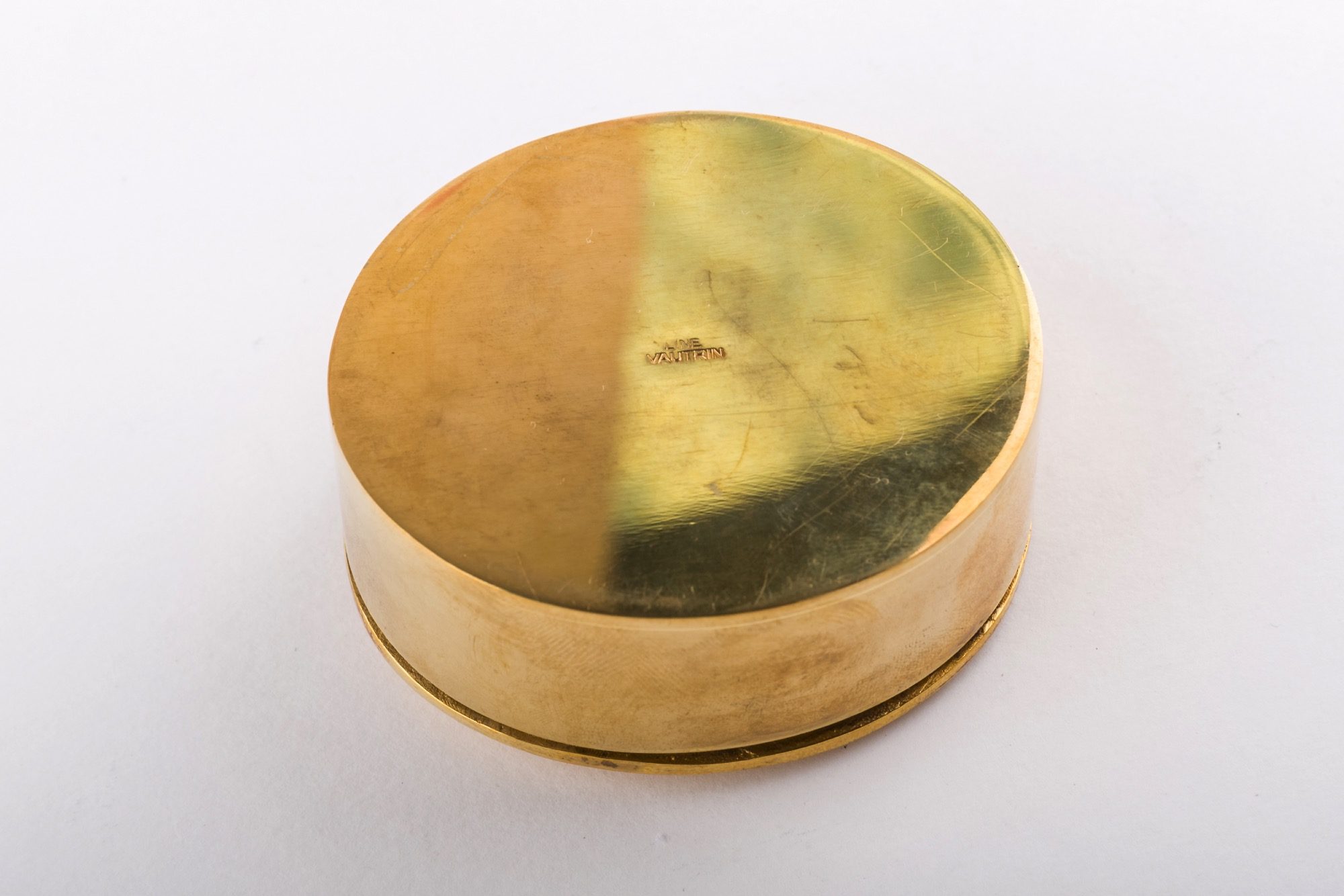 you should know

Excellent vintage condition
Minor fading
Photos copyright Gilles van den Abeele for Unforget.eu
—
Line Vautrin (1913 – 1997)
Line Vautrin was born on April 28th in Paris. Her family owns a bronze foundry on Faubourg Saint-Antoine.
She started working on her first creations, bracelets, at the age of 21 and opens his first boutique in 1938.
She exhibits at "Salon des Artistes décorateurs" during 1939-1942 and presents her first gilt-bronze boxes.
After a short stay in Casablanca, she's back in Paris in 1950 and discover a new material, cellulose acetate that she patents and renames "Talosel" and begins to produce her famous convex mirrors.
1958, Line opens a new boutique at Rue de l'Université in Paris. She sells her creations to famous people such as Brigitte Bardot, François Sagan and Ingrid Bergman.
She met David Gill in 1987 who will revive her fame organising exhibitions troughout the world. London, Tokyo, NYC, Barcelona and Brussels.
Line Dies in 1997 two years before the retrospective in Musée des Arts décoratifs.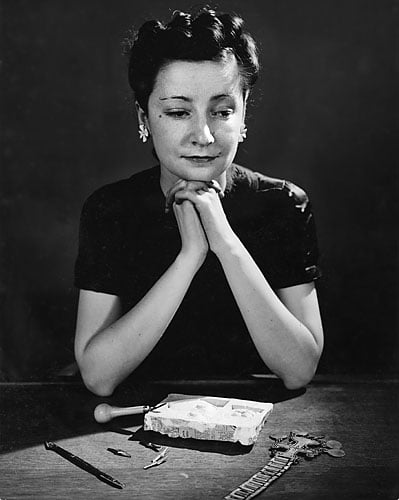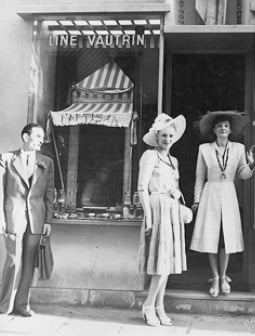 Photos archives Marie Laure Bonnaud Vautrin