3 drawers desk with matching chair
—

Guillerme et Chambron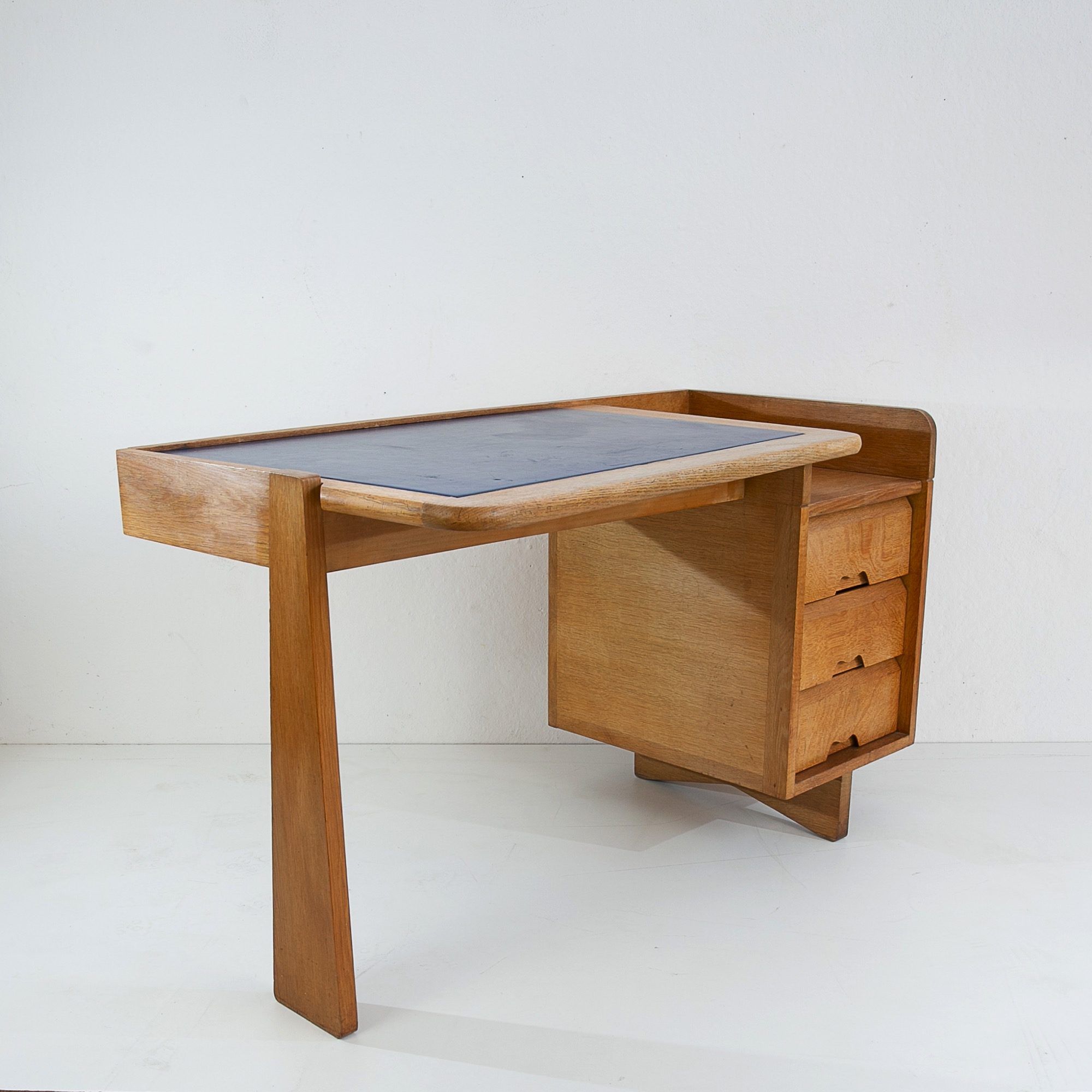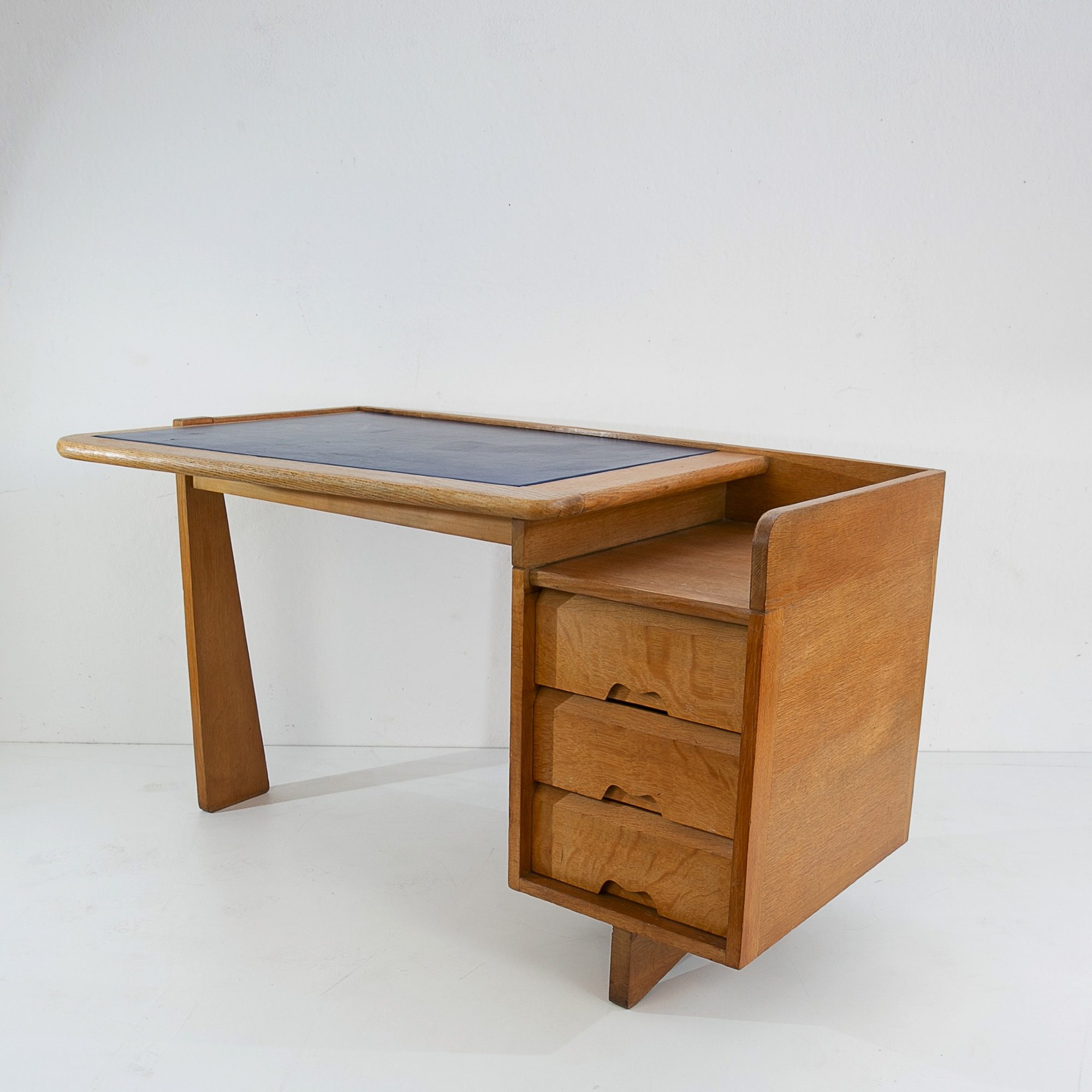 reference COUC01_06
Guillerme and Chambron (F) 3 drawers desk with matching chair
unforget says

Desk : Hungarian Oak, electric blue vinyl cover. Particular construction, unique foot on left side. Chair : Hungarian Oak, electric blue vinyl upholstered seat. Tripod structure. Original vinyl, can be used as is (some light damages and scratches) or changed to your needs.
Condition of the set : Overall good condition, light damages, scratches.
technical

Designer: Guillerme et Chambron
Manufacturer: Votre Maison
Dimensions Desk :
H 29.13 in. x W 28.74 in. x D 49.21 in.
H 74 cm x W 73 cm x D 125 cm
Dimensions chair :
H 28.94 in. x W 17.32 in. x D 18.11 in.
H 73.5 cm x W 44 cm x D 46 cm
Seat Height : 43.5 cm / 17.13 in.

Date of manufacture: circa 1950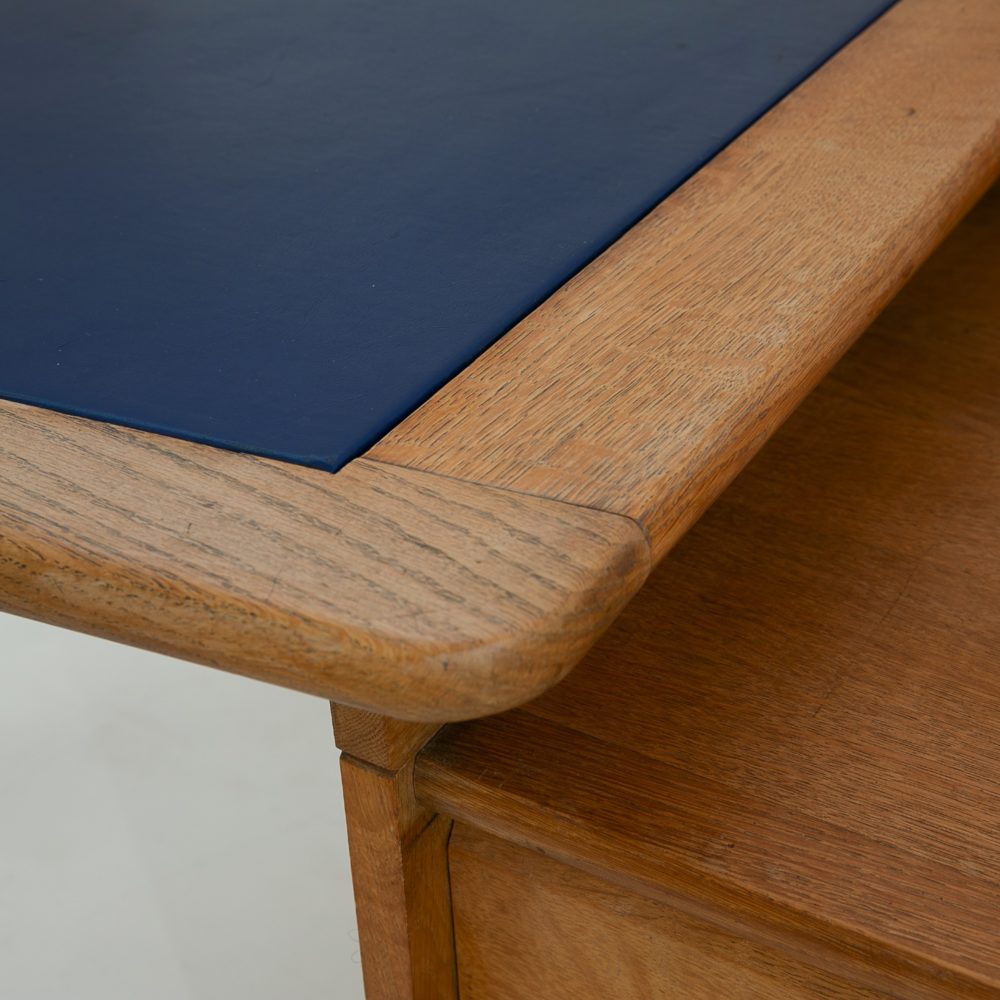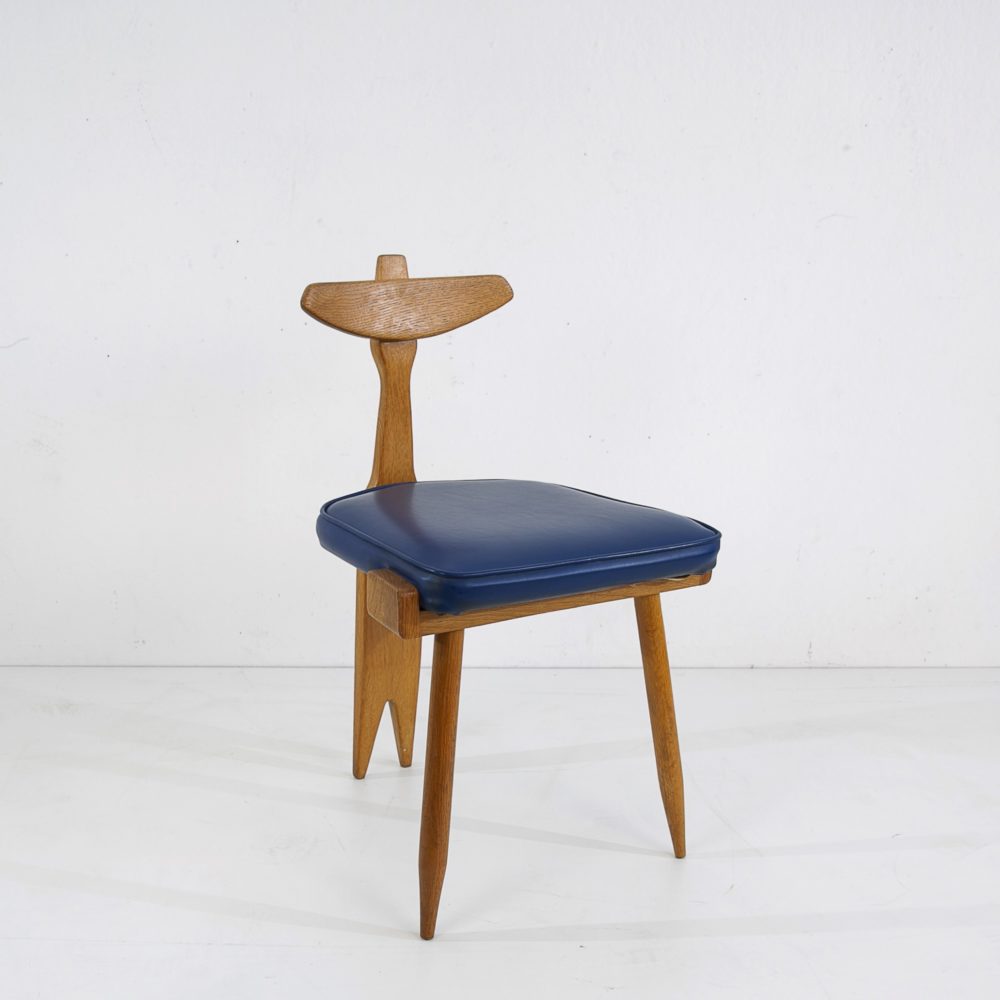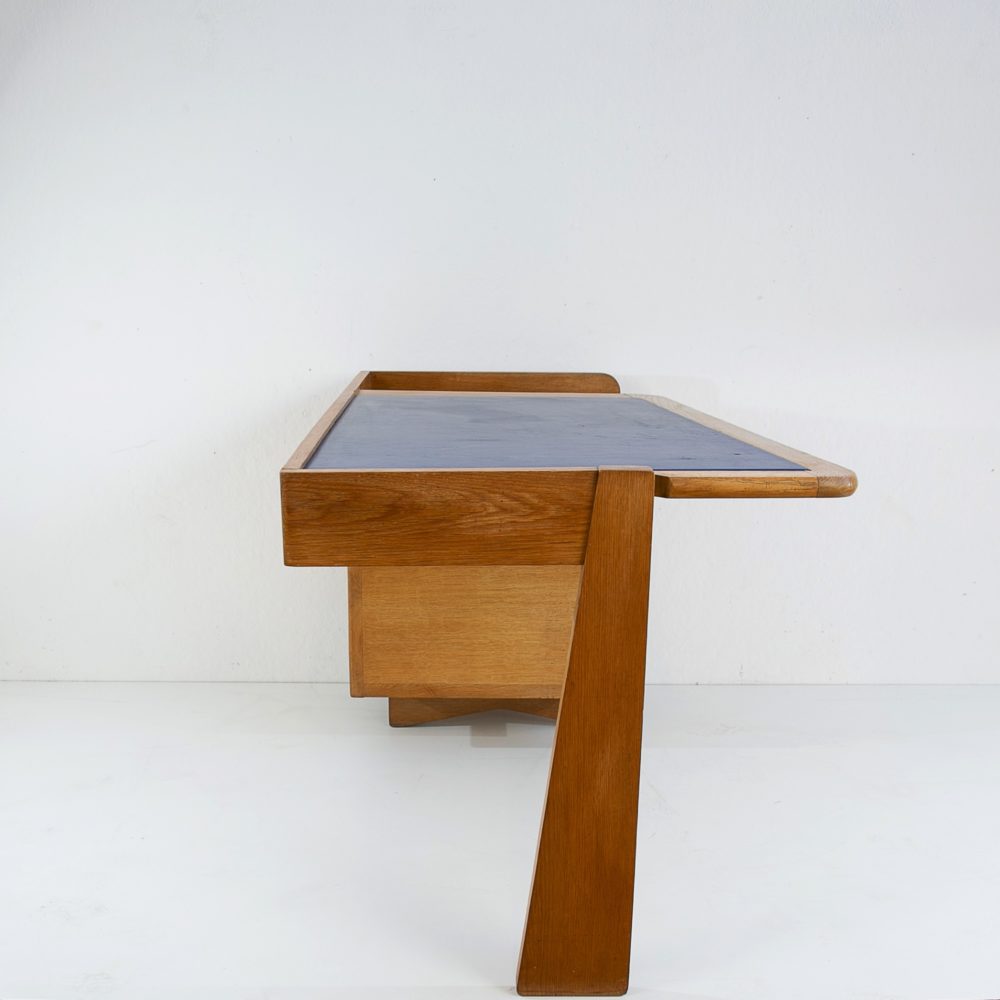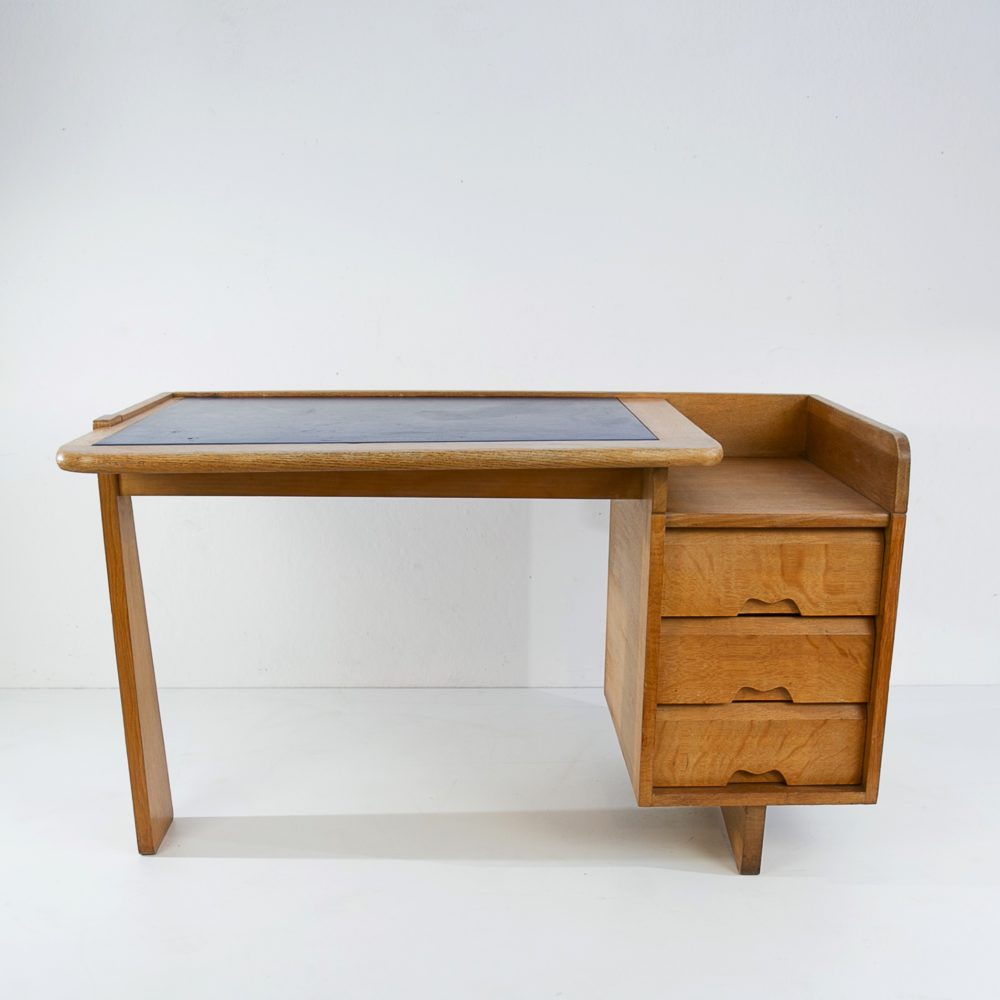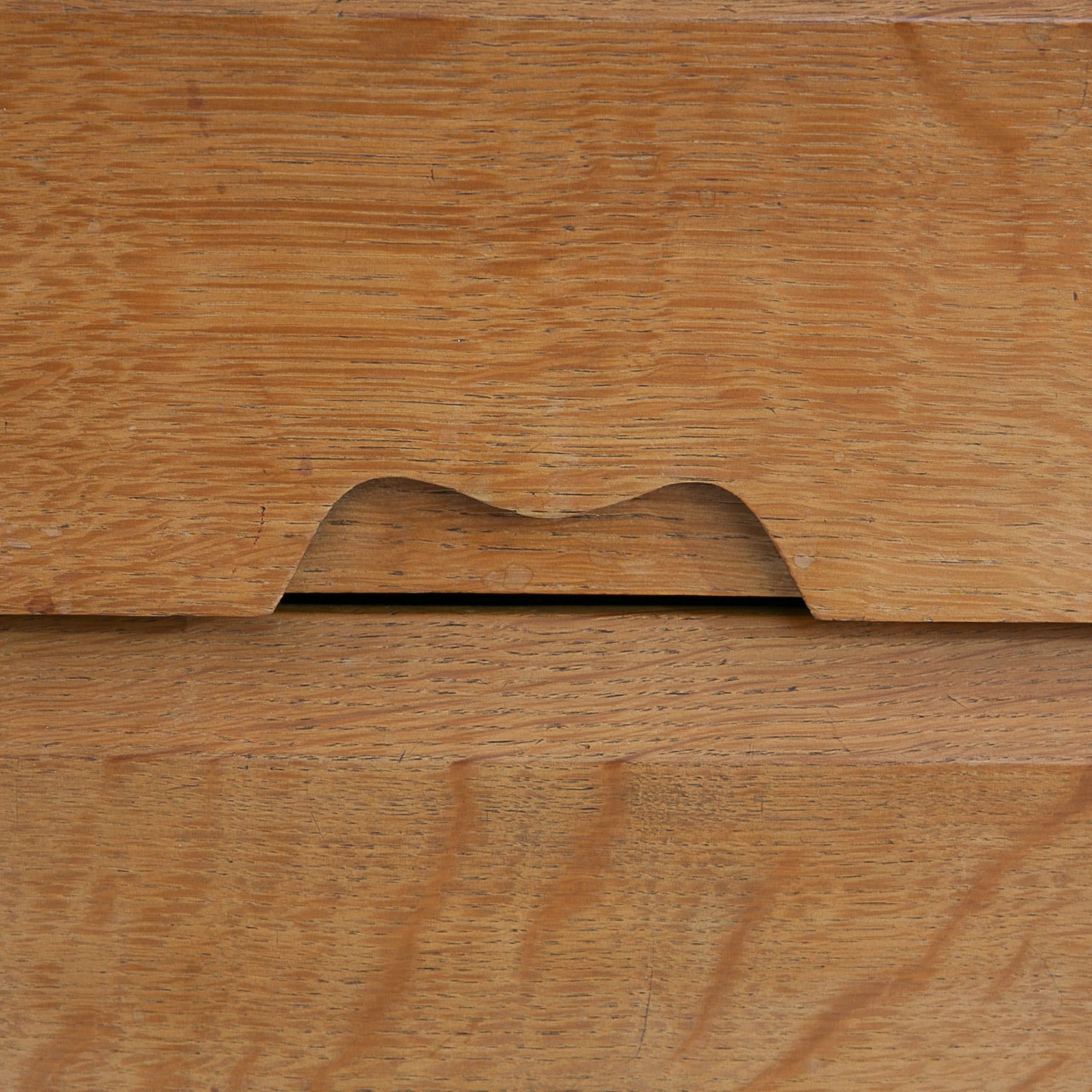 —
Guillerme et Chambron
3 drawers desk with matching chair
REF COUC01_06
Photos copyright Ludovic Vandenweghe for Unforget.eu
—
Robert Guillerme
Jacques Chambron
" Votre Maison " company founded by Robert Guillerme and Jacques Chambron is a landmark of French Mid-Century design history.
Robert Guillerme studied design and architecture at the Boulle school (France). He graduated first in his class in 1934.
Jacques Chambron graduated from the School of Applied Arts in Reims (France).
Sharing an intense and deep passion for interior design, it was only natural that the two men became friends during the tragic events of the Second World War.
Jacques Chambron quickly resigned from his job as a painter and decorator in Paris in 1948 to join the Guillerme family in northern France.
In 1949, Guillermo and Chambron met Émile Dariosecq, a master cabinetmaker. Not only is Emile Dariosecq a cabinetmaker, he also owns a workshop in their region. It is from this meeting that they decided to create the company "Votre Maison".
It is by combining functionality and design that Guillerme and Chambron will create their worldwide reputation, while leaving a lasting mark on the world of design.
In the 1970s, Hervé Chambron, son of Jacques Chambron, a design graduate, joined "Votre Maison" and took over the company in 1983.