Head of commedia dell'arte figurine
—

Fulvio Bianconi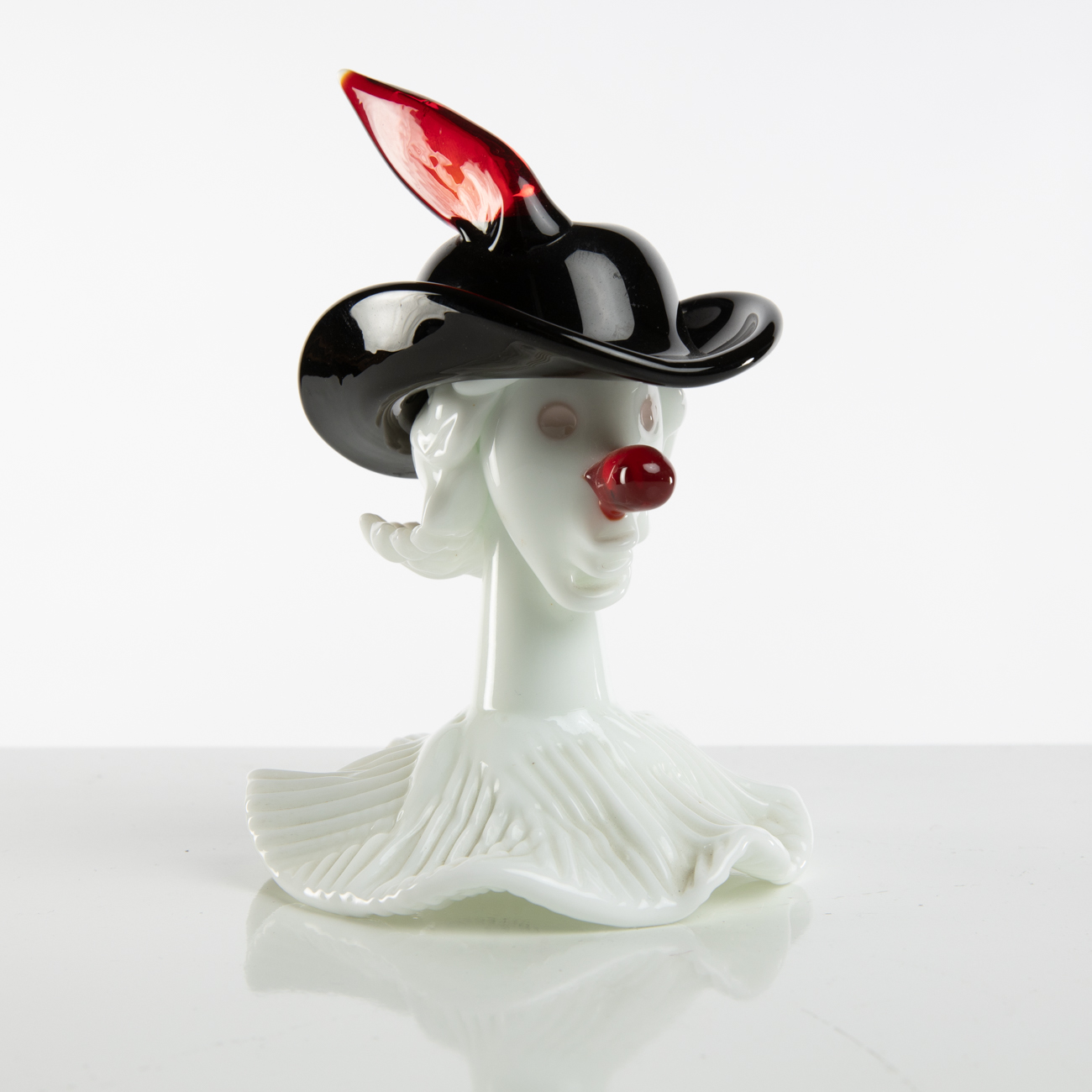 reference 0101_1
A fine and delicate figurine
unforget says

The Commedia dell'arte figurines are one of Fulvio Bianconi's most characteristic productions for Venini.

Their creation can be dated around 1947-1948.
The series, which originally consisted of twelve models, was exhibited at the 24th Venice Biennale in 1948.
It is important to see this series of figurines as a cartoonish reinterpretation of the figurines that were very popular on the island of Murano in the 1930s.
We recognize here the ironic touch of the work of Fulvio Bianconi who an illustrator was.
Fulvio Bianconi uses here for each figurine a different costume and mask, the base is always made of lattimo glass decorated for polychrome glass costumes.
Attitudes are also different for each character.

We rarely find the heads of these figurines which were rare productions and out of catalog.
Charming objects blown by masters outside the "regular" production.
We present here the head of Giangurgolo, a figurine which bore the reference 2900 in the Venini catalog.

The basic material of the lattimo glass head, the pink eyes, the black hat with the red feather and the red nose.
The base is represented by the collar of the garment worn by the character.
Everything is worked in a very skillful way, giving this character an eminently sympathetic.

The sculpture is in very good condition.
It can be dated to the end of the 1940s or early beginning of the fifties and bears the signature under the base in three-line "venini murano Italia".
Note that he third line "italia" does not appear because the space does not allow it.


technical

Designer: Fulvio Bianconi
Manufacturer: Venini
Dimensions: Height: 5inch - 13cms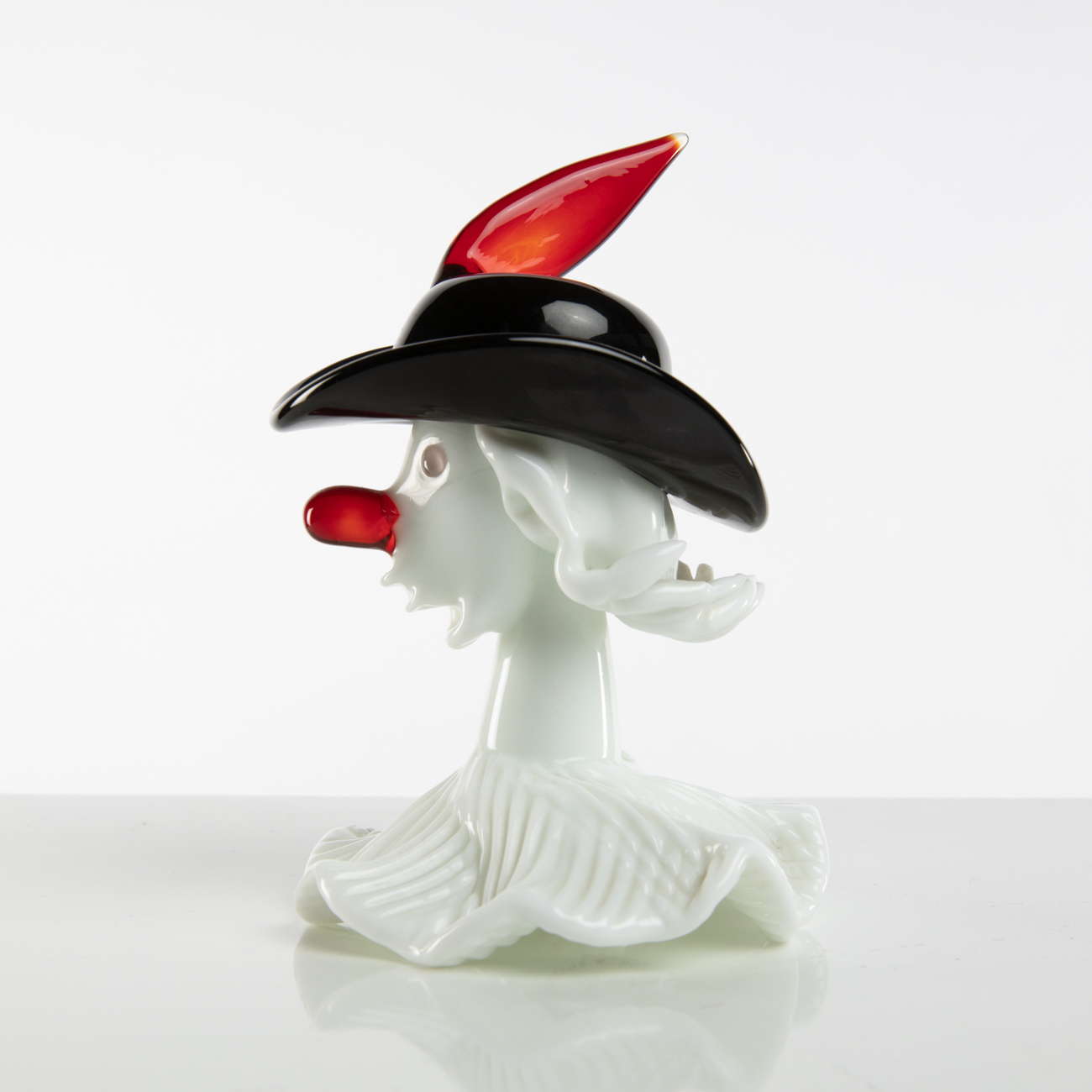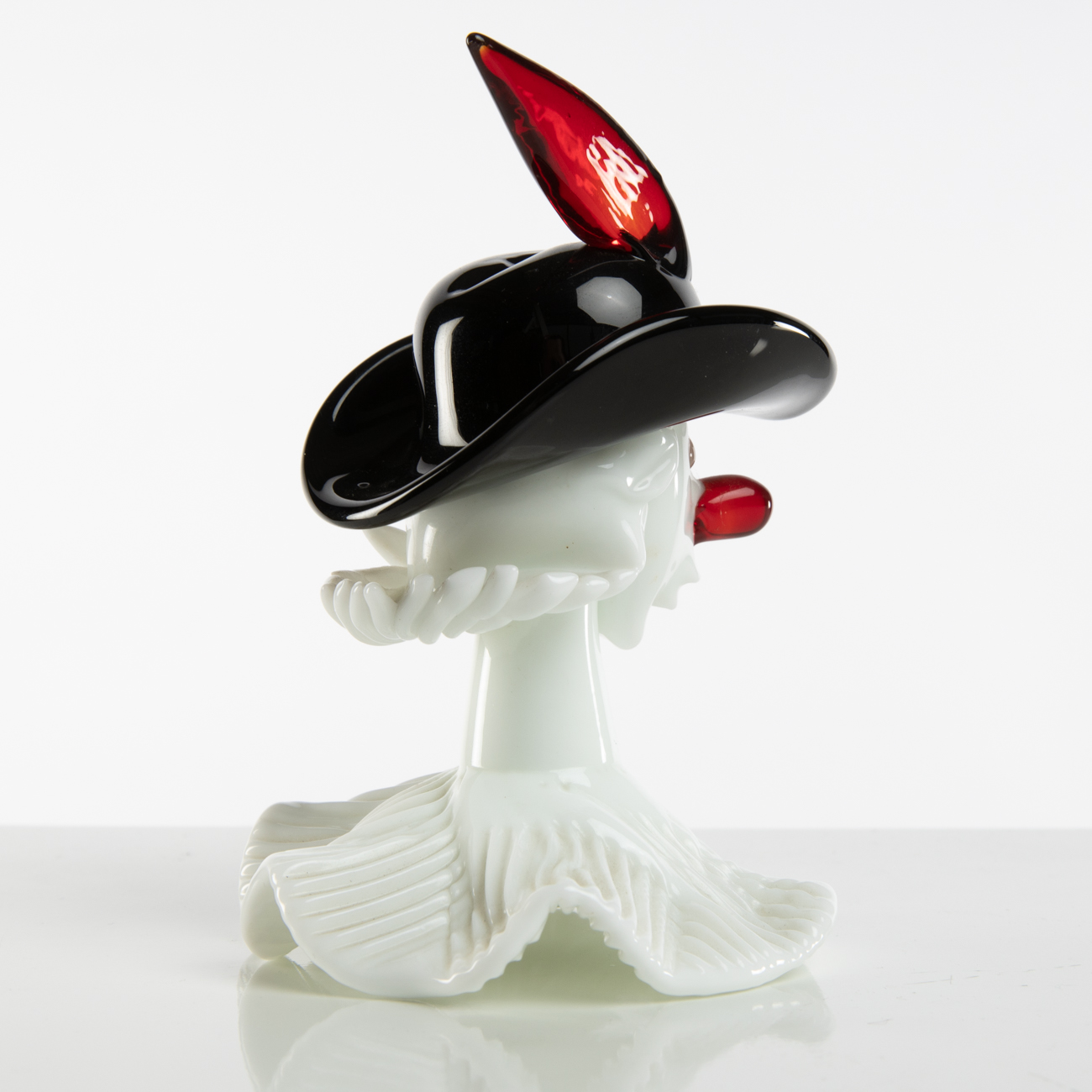 —
Fulvio Bianconi
Head of commedia dell'arte figurine
REF 0101_1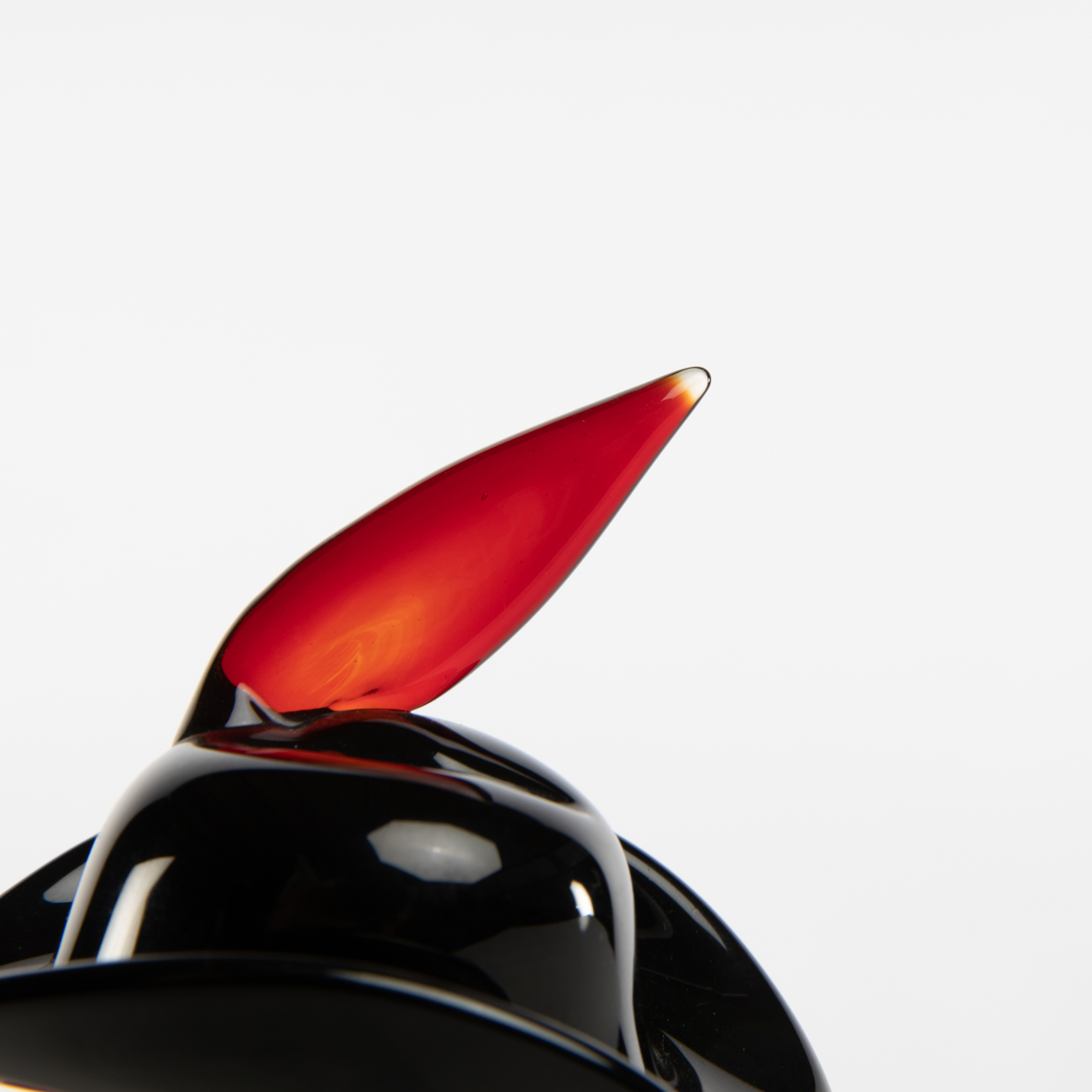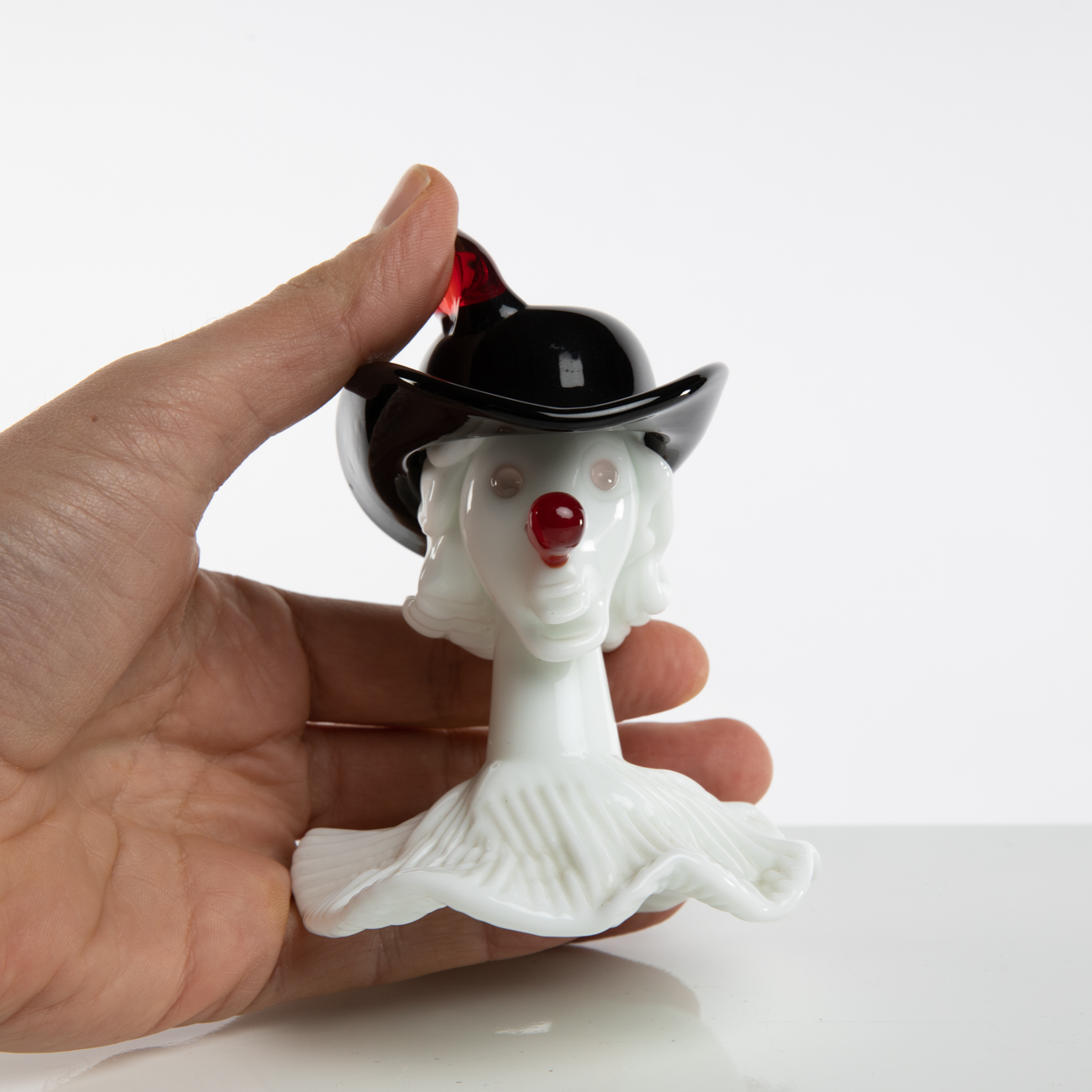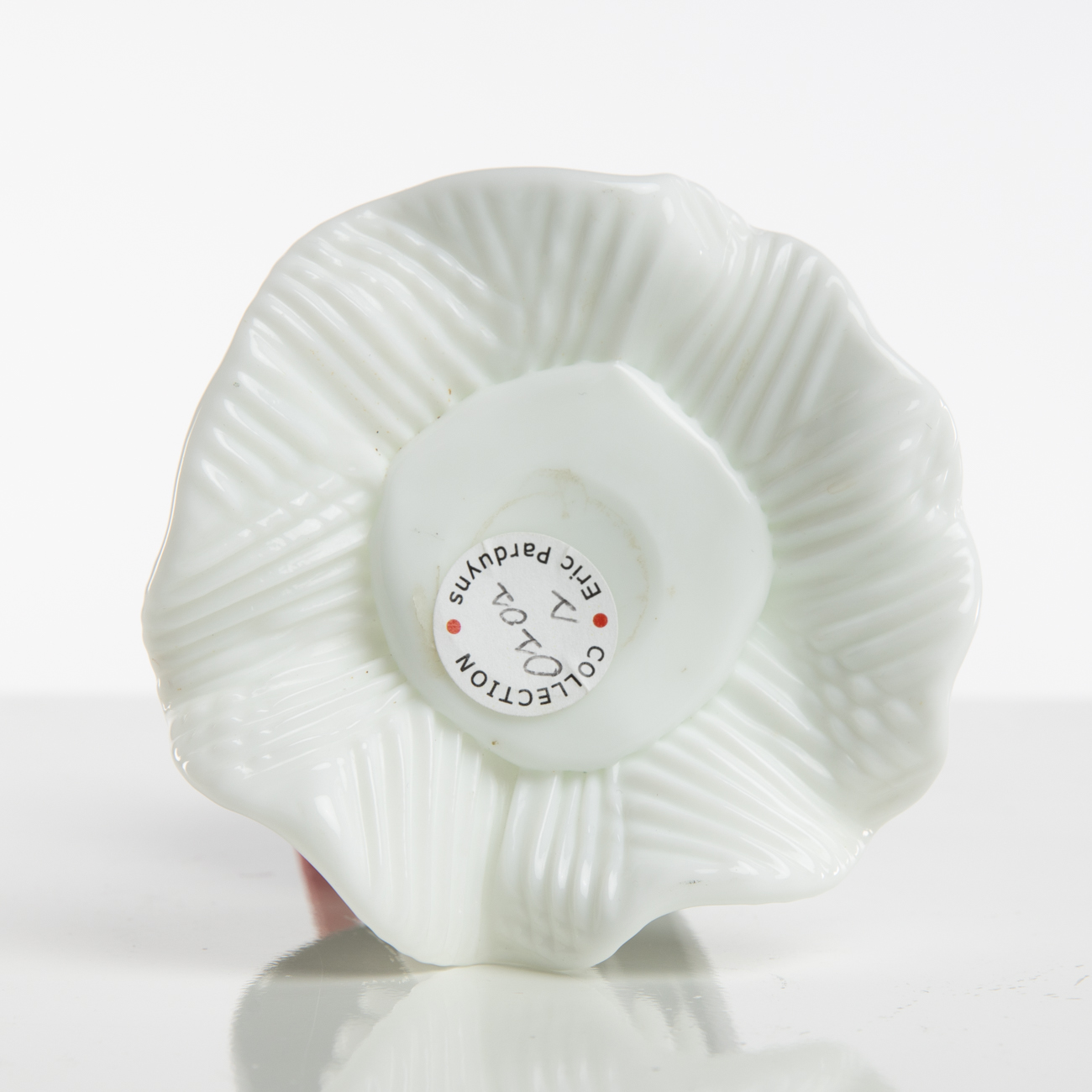 All photos are from Ludovic Vandenweghe for unforget.eu
"Heaven help you if you start up with glass, if you do, it will never go out of you"
Graphic artist, illustrator and later designer Fulvio Bianconi was born In Padue in 1915.
Fulvio has a strong predisposition for drawing and attended courses at the Academy of fine Arts in Venice. He lived from childhood in Venice itself.
In the middle of the thirties, he moved to Milan to work as a graphic designer and illustrator.
Bianconi had first contacts with Venini in 1946 when he was in charge to find a manufacture to produce Perfume bottles. He met then Poalo Venini and they built a very strong relationship.
It was the beginning of the fifties and the firms had to choice between starting new designs or continue to produce classic shapes.
Paolo and Fulvio decided to concentrate themselves on new designs…