Harlequin with pezzato costume, Venini Murano (Italy)
—

Fulvio Bianconi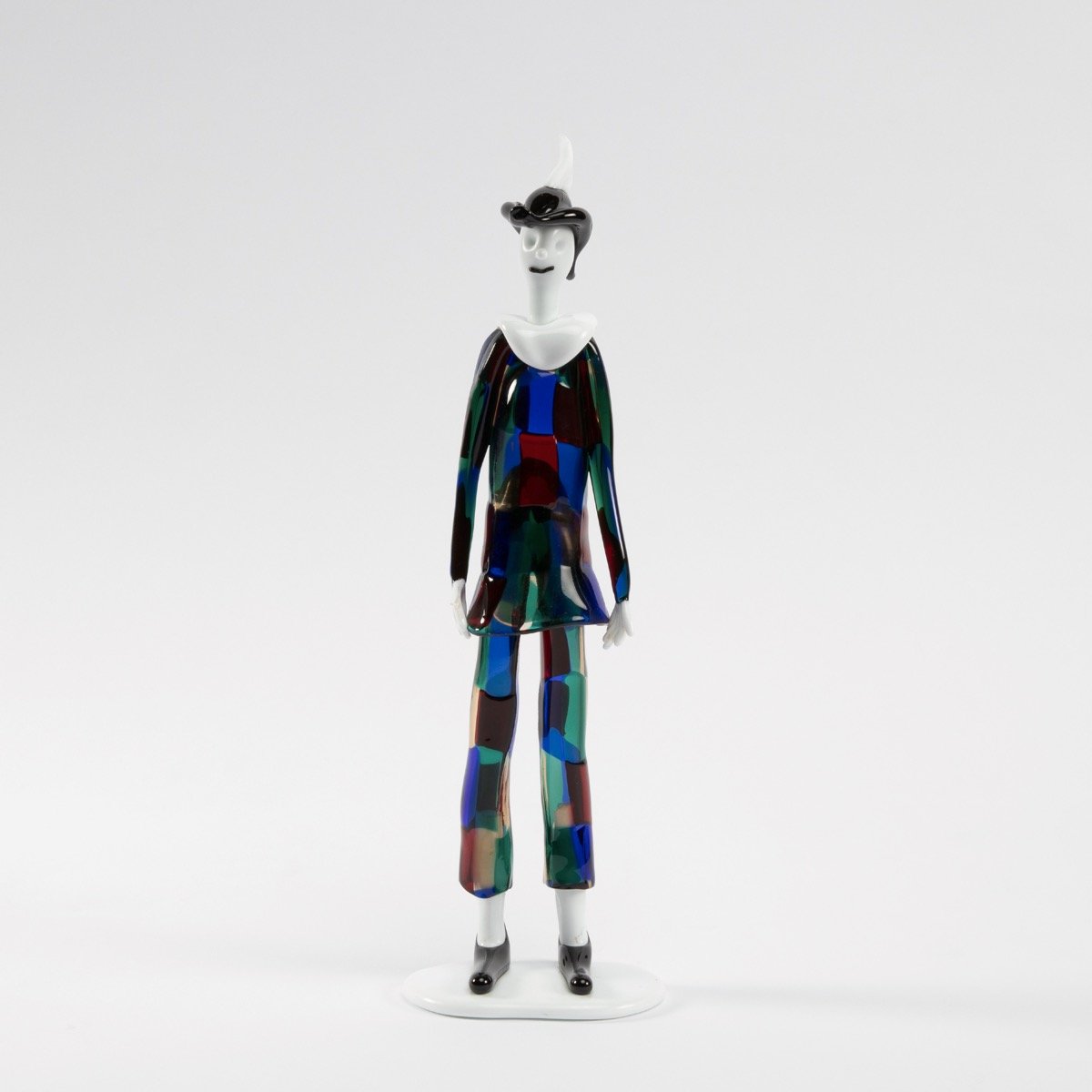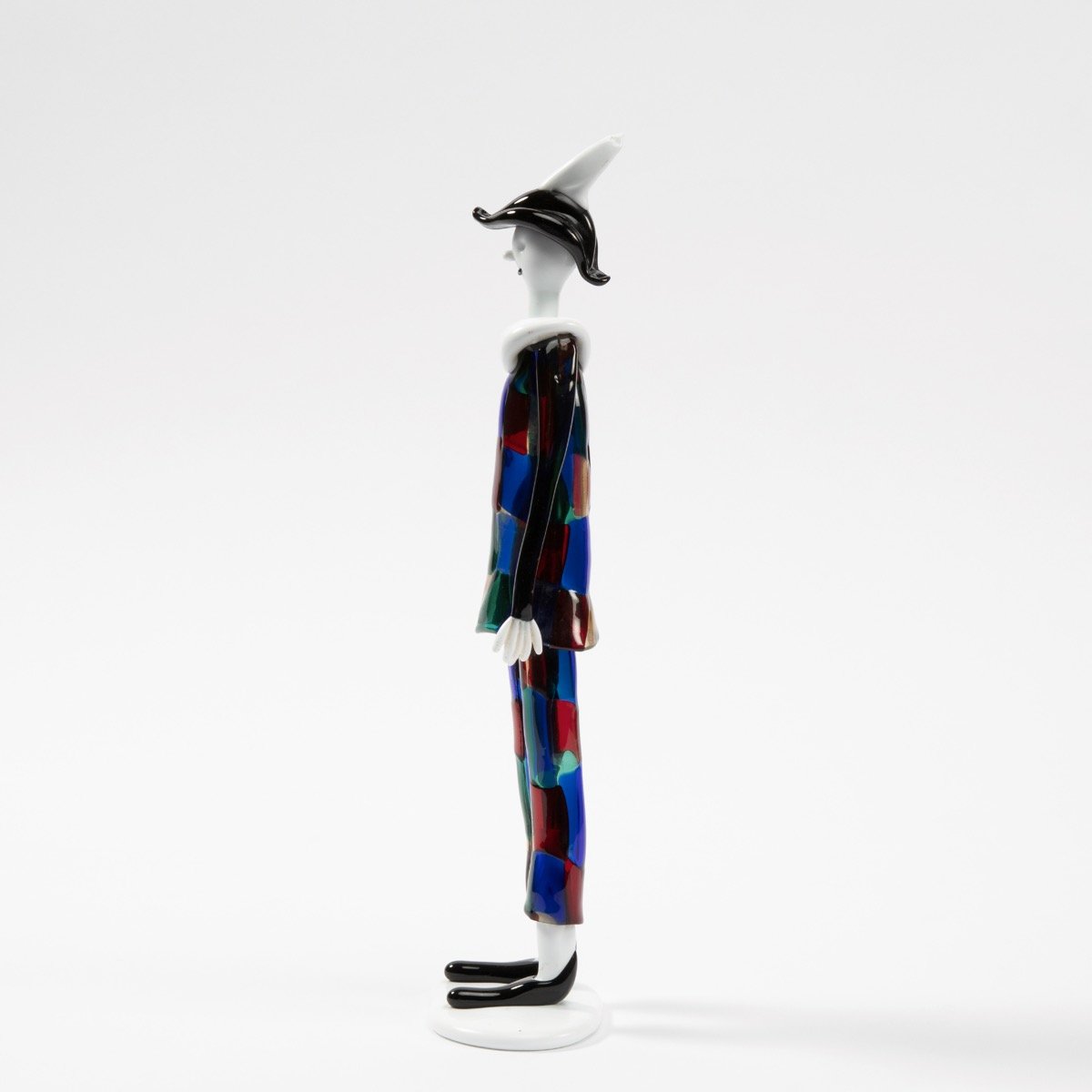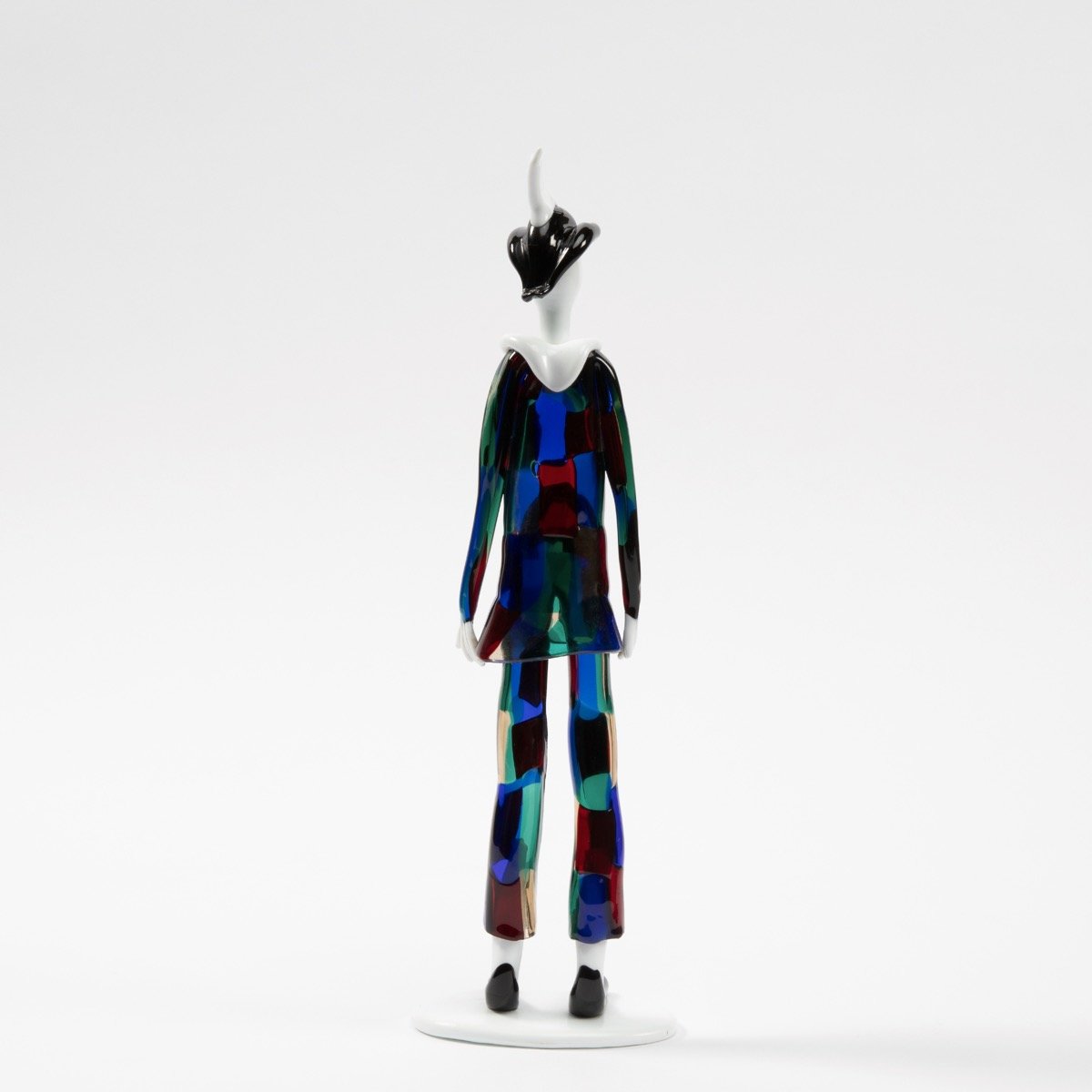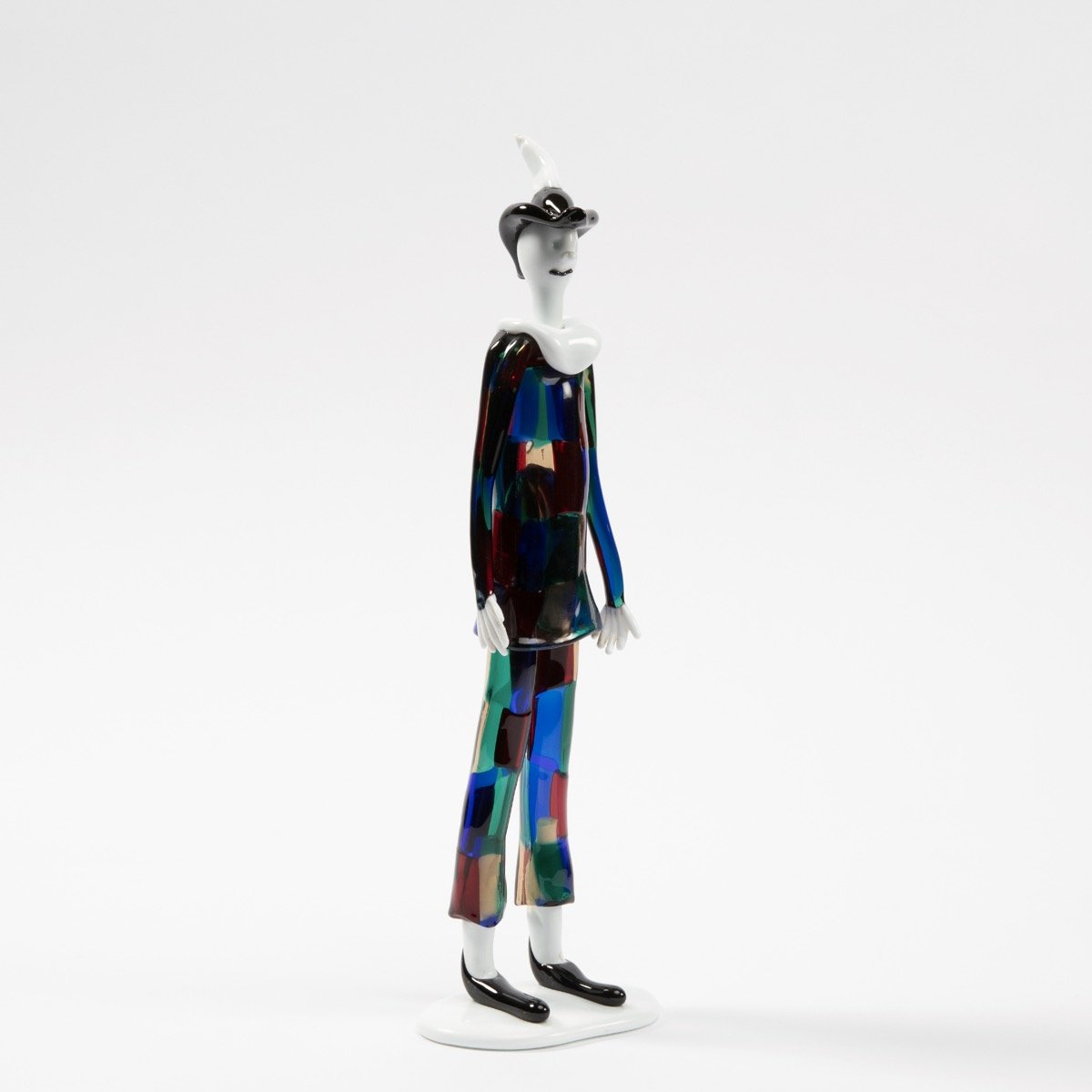 reference D01_03
Fulvio Bianconi, Harlequin with pezzato costume, Venini Murano (Italy)
unforget says

Harlequin in "lattimo" (white) glass with black hat and "pezzato" technique costume.
The costume has a "Parigi" (Paris) color variation. The black hat also bears a "lattimo" feather. The figurine stands on an irregular base in "lattimo".

The series include 5 different shapes of harlequins, it has been designed by Fulvio Bianconi around 1953 – 1954.
(The series of Commedia dell'arte dates back to 1947-1948).

The execution of the garment, the delicacy of the figurine's legs and the movement in the harlequin's blouse are remarkable.

A work that only the masters of Venini could provide at the time.
The figurines using the pezzato and murrine technique are the rarest. on the one hand given the difficulty of production and on the other hand given their relatively high cost.

Known as model 4287 in Venini archives, our figurine is in excellent condition, extremely well executed.
This figurine appears to be unsigned, which is often the case with this type of piece.

Fulvio Bianconi comes from graphic design and illustration, he joined Venini in 1946 through a company that had commissioned him to design perfume bottles.
He then met Paolo Venini on this occasion and the two men established a long relationship of friendship that will last for several decades.

The figurines have a great importance in the work of Bianconi because they represented for him the possibility of expressing the jovial character and the marriage of the different techniques with the use of brilliant colors.

Fulvio Bianconi was a smiling man and this is reflected in his glass work which will mark a turning point in the production of Murano glass after the Second World War.
technical

Designer: Fulvio Bianconi
Manufacturer: Venini
Dimensions:
Height: 14 1/4 inch - 36,2 cm
Length: 4 1/2 inch - 11,5 cm
Depth: 3 inch - 7,5 cm
certificates

Designed and produced circa 1953-1954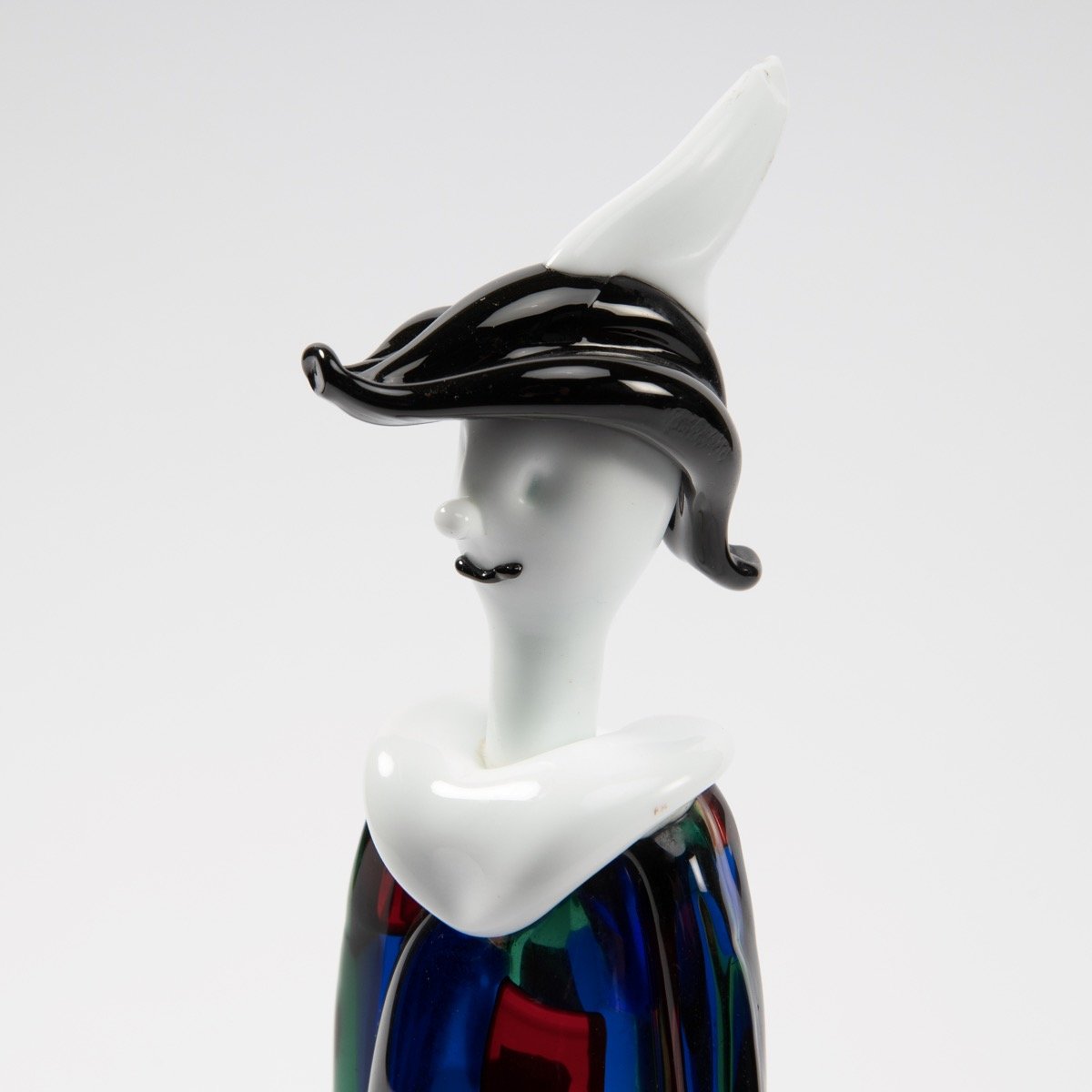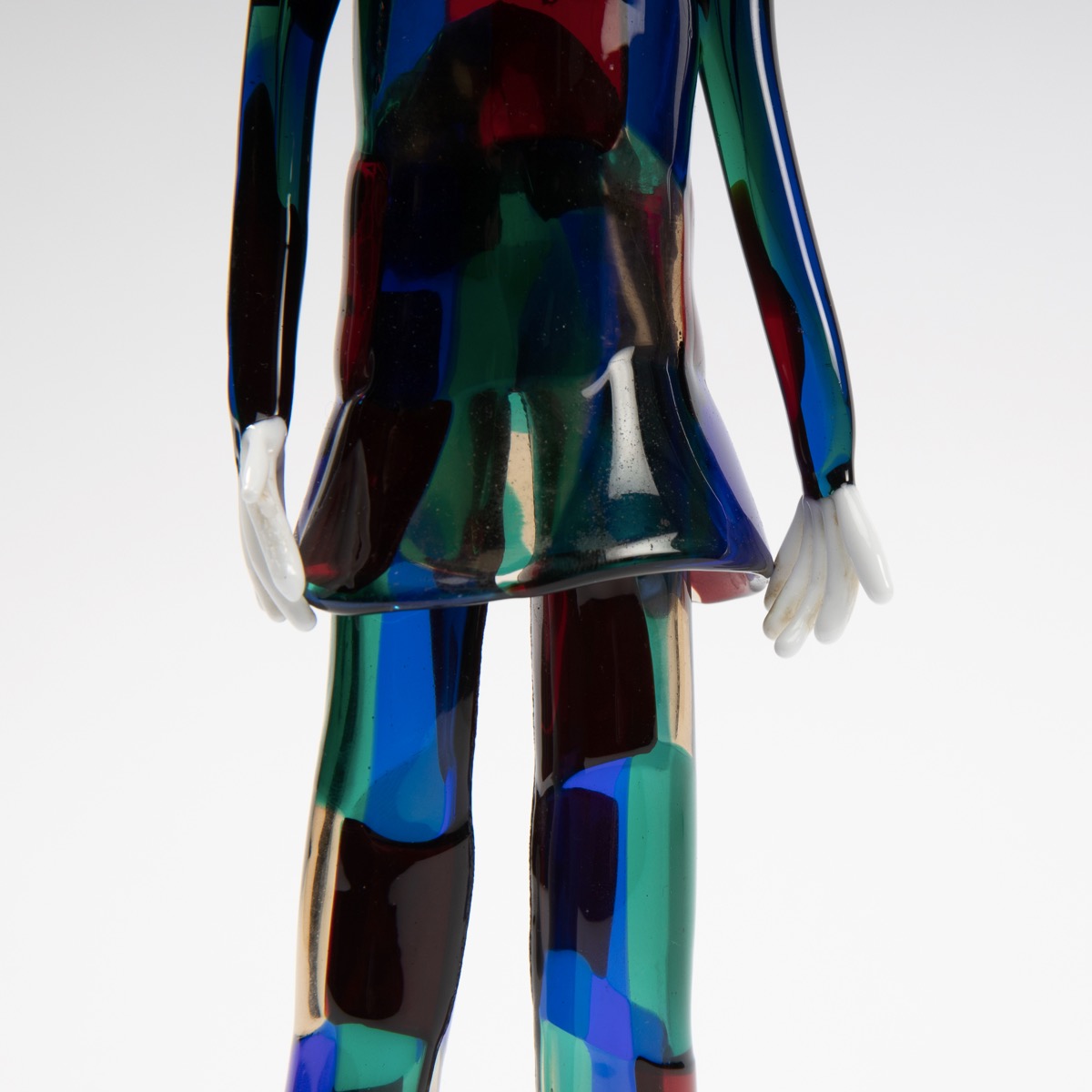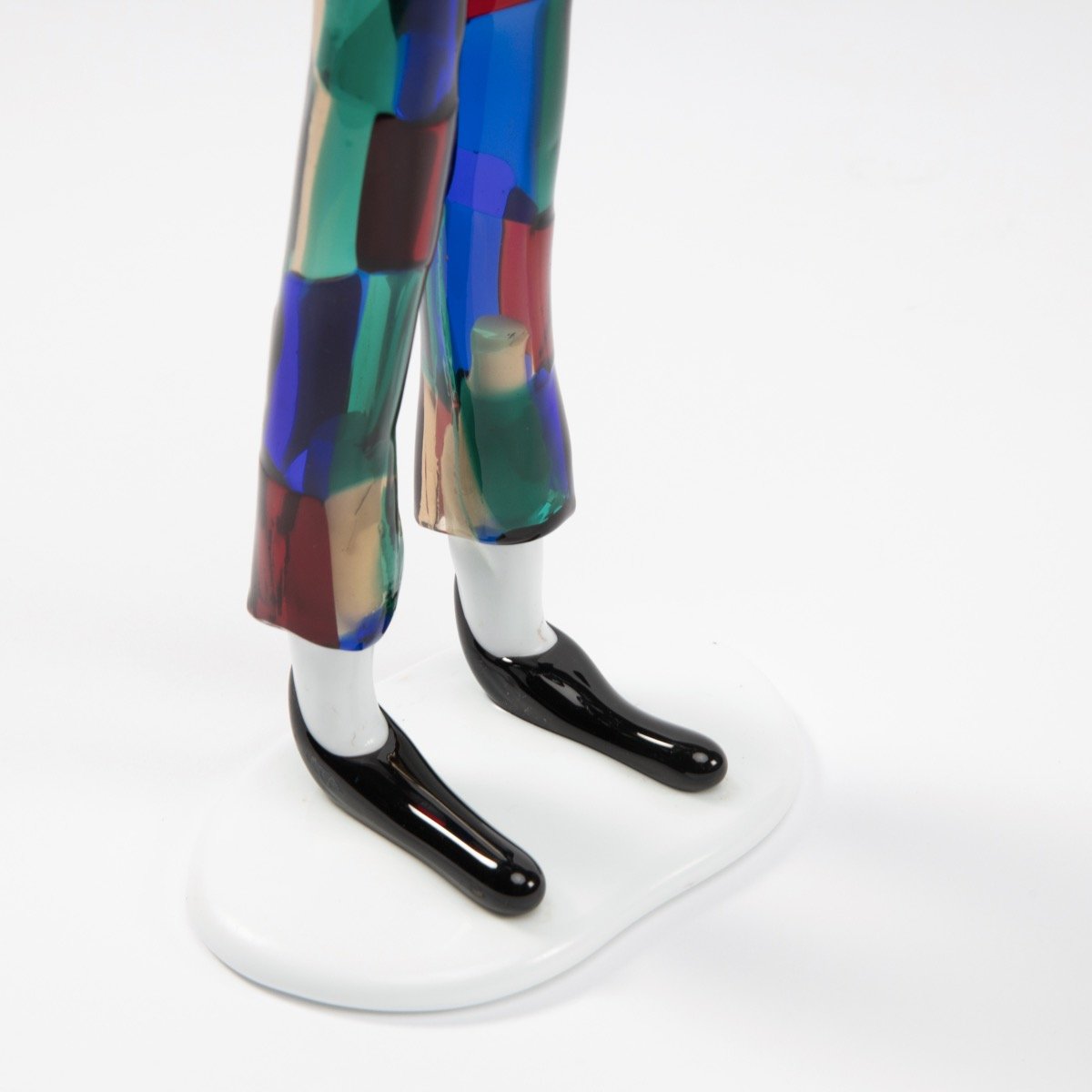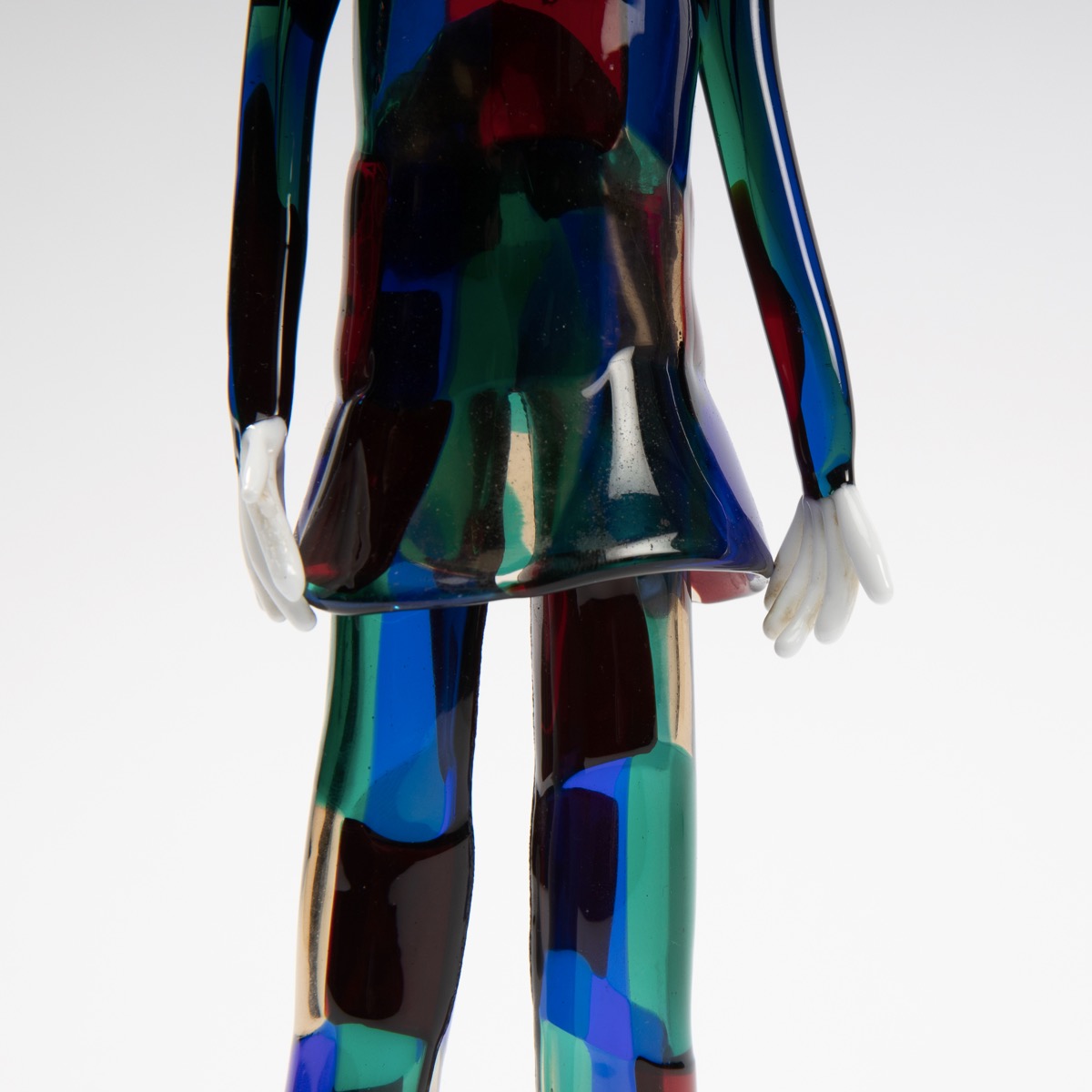 —
Fulvio Bianconi
Harlequin with pezzato costume, Venini Murano (Italy)
REF D01_03
All photos are from Ludovic Vandenweghe for unforget.eu
"Heaven help you if you start up with glass, if you do, it will never go out of you"
Graphic artist, illustrator and later designer Fulvio Bianconi was born In Padue in 1915.
Fulvio has a strong predisposition for drawing and attended courses at the Academy of fine Arts in Venice. He lived from childhood in Venice itself.
In the middle of the thirties, he moved to Milan to work as a graphic designer and illustrator.
Bianconi had first contacts with Venini in 1946 when he was in charge to find a manufacture to produce Perfume bottles. He met then Poalo Venini and they built a very strong relationship.
It was the beginning of the fifties and the firms had to choice between starting new designs or continue to produce classic shapes.
Paolo and Fulvio decided to concentrate themselves on new designs…