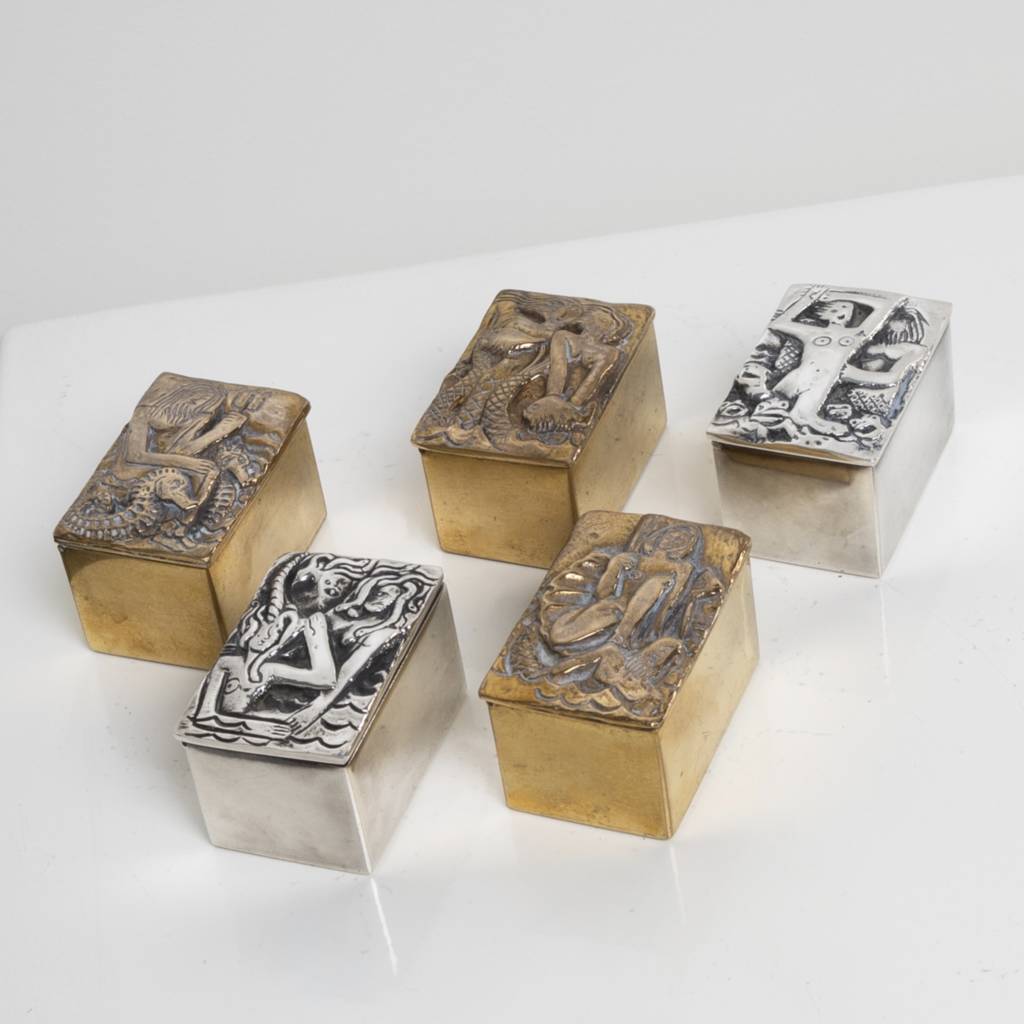 Ref : 1505_20
Les filles de Neptune (Daughters of Neptune) by Line Vautrin – Suite of 5 boxes in gilded bronze and silvered bronze
Artist
Line Vautrin
Les filles de Neptune (Daughters of Neptune) by Line Vautrin, suite of 5 boxes in gilded bronze and silvered bronze.
Set of 5 boxes by Line Vautrin in gilded bronze and silvered bronze whose lids are chiselled with decorations representing Neptune and his daughters.
The bronze boxes made by Line Vautrin are true works of art that combine the elegance of design and mastery of craftsmanship. Line Vautrin, a famous French artist and designer of the 20th century, specialized in the manufacture of jewelery and decorative bronze objects.
In addition to their remarkable aesthetic, Line Vautrin's bronze boxes were also designed to be functional. They could be used to store jewellery, souvenirs or other small precious objects.
All in all, Line Vautrin's bronze boxes are remarkable objects that embody the harmony between art and craftsmanship. Their sophisticated aesthetics and meticulous execution bear witness to the talent and creativity of this great French artist.
Line Vautrin was a French artist born in 1913. She acquired the technical skills in chasing and gilding thanks to her father, an art bronze worker. This allowed him to create his first collections of buttons and jewelry. With her talent and creativity, Line Vautrin quickly distinguished herself with her works that combine mischief, humor and poetry.
Line Vautrin was particularly known for her engraved rebuses to be deciphered, which made her famous and earned her the nickname of "metal poetess". Among his most famous creations are the Saute-Mouton necklaces, the Plat comme la galette, Skinny as a Nail and Long as a Giraffe boxes.
With her unique style and her personal touch, Line Vautrin left an indelible mark on the history of art. His artistic heritage continues to live on through his works still appreciated today.
Other items by Line Vautrin :
"C'est la vie" gilt bronze box whose lid is enhanced with enamel
"Heureux parmi la foule" Silvered bronze box
"Aime tant et plus" Gilt bronze box
Details
You should know
Very good original condition.
Each box signed by stamping on two lines "LINE VAUTRIN".
Specifications
Artist

Manufacturer

Period

Circa 1950

Dimensions

Height: 1″3/16 in. (3 cm)
Width: 1″31/32in. (5cm)
Total length of the 5 boxes: 6″11/16 in. (17 cm)